By franco on 15 February, 2010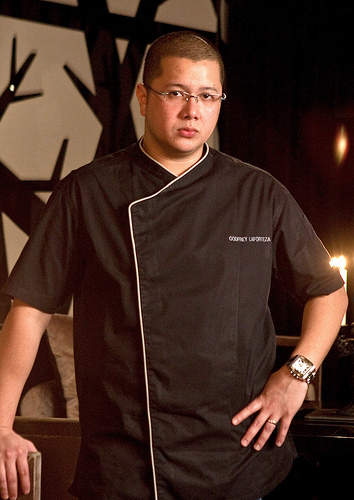 Chef Godfrey Laforteza

is the executive chef of

The Establishment

, the new chi-chi entertainment venue in Fort Bonifacio Global City. While he may have earned his chef's whites working with the likes of

Chef Jean Georges Vongerichten

and

Chef Nobu
Matsuhisa
, he credits two important women with starting him down the path of gastronomic adventure: his mother and his wife of eight years, actor Carla Guevara. "[While living in New York], my wife was working as a barista for a café. When she gave birth, I took her place. Then, I was transferred to the kitchen to help with the prep work. I became good friends with the chef and he taught me the basics. I decided that I wanted to take up the culinary arts…the rest, as they say, is history." An avid car enthusiast and golfer, this former theater performer is also the proud father of two wonderful children, Basil and Sophia.
Who in your life has influenced your cooking the most?

My wife, Carla Guevara-Laforteza, who taught me how to cook.

Which book has had the biggest impact?

The first book of Nobu Matsuhisa.

What was your first job in the food business?

La Boulangeria in New York. I worked as a food delivery guy and a dishwasher.

What is your inspiration for the menus of restaurants of The Establishment?

After nine years of being away from the Philippines working as a chef for established restaurants and hotels in the United States (and some parts of Asia) as well as a personal chef to some high-profile names in the USA, Hong Kong, Jakarta and the Philippines, I've compiled all that I've learned and put it into one menu.

What is your favorite item on the your menu?

Pan Seared Beef with Lychee Truffle Sauce.

Which restaurant meal (foreign or local) do you remember the most?

Jean Georges at the Trump Tower, New York

Besides your own place, what's your favorite restaurant in Manila?

Sala Bistro

What junk food do you love?

Gummy Bears. Love them.

Is there a food you just can't seem to enjoy?

Ox brains. Any animal brain. I hate it.

Just between us, what are your future plans?

Secret.
The Establishment
Unit A, The Fort Entertainment Complex
26th Street corner 5th Avenue
Fort Bonifacio, Global City,
Taguig
Tel: (02) 844 6364
LABELS: Godfrey Laforteza, On The Table, The Establishment