By Anonymous Paul on 9 January, 2010
Christmas-time in the Philippines can get unbelievably chaotic. All the parties. The rich food. The family reunions. The decadent sweets. The consumption of copious amounts of alcohol. All events and stress factors manifest themselves physically when I fearfully tip the scales come January in the form of "mysterious" excess poundage.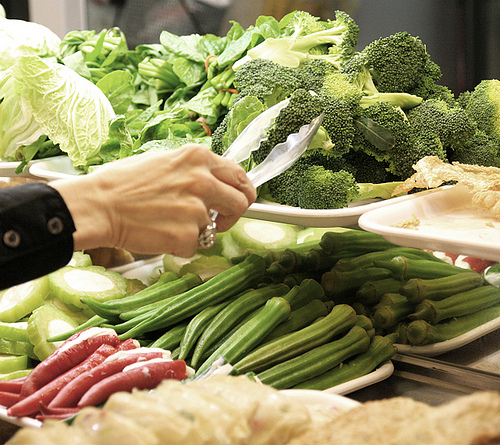 Picking the Greens

Not that I'm complaining about the eating bit. But it IS possible to get over satiated with holiday food. And so being in Singapore right after Christmas was sort of a welcome retreat. Of course, it was time for more eating but at least with another flavor spectrum. One of the things I often look for when in the City-state is Yong Tau Foo. It's not exactly a restaurant but more a type of food that can be found in most hawker centers and food courts in the city. (This particular one located at the Funan Digitalife Mall on North Bridge Road). The general idea is to pick out ingredients from a wide selection of fresh vegetables and daily homemade goodies like fried wontons, squid balls, stuffed bitter gourd, fish tofu, fish cake, etc… (every stall will have its own variety of offerings)… and place them in your bowl. At the end of the counter you pick out noodles of your choice, if desired, then a lady dunks everything in boiling soybean broth and you're served this big bowl of wonderful soup.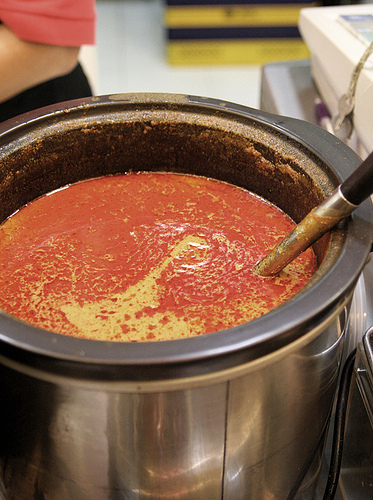 Some like It Hot

I usually take mine "dry", meaning after everything's dunked and blanched in the hot broth, they strain all the ingredients and top everything with a brown sweet sauce and a thick laksa-like chili sauce. The vegetables remain crunchy without the raw flavor and the meats mingle with the bean broth and ooze out a nice soup. So just imagine the meats, dumplings, vegetables, broth and sauces just mixing all together; it's a lot going on. I didn't put noodles and just picked out a lot of vegetables. Wantons, stuffed chili and fishcakes under the greens were mostly made from fish so the overall dish remained quite healthy. And, more importantly, tasty.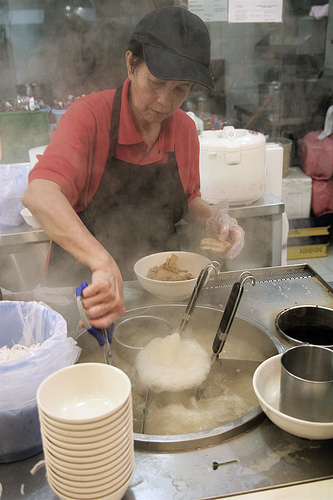 Boiling Over

It's always a treat to have some of this stuff. Because of the type of cooking involved (which is basically blanching for a few seconds); ingredients, especially the vegetables, have to be super fresh. Eaten as a soup, you get a clean and delicate tasting meal–light but filling. Eaten dry, it's a more bold, spicy and hearty affair–very satisfying.
LABELS: Anonymous Paul, Singapore, The Travelling Table, Yong Tau Foo