By Anonymous Paul on 19 January, 2010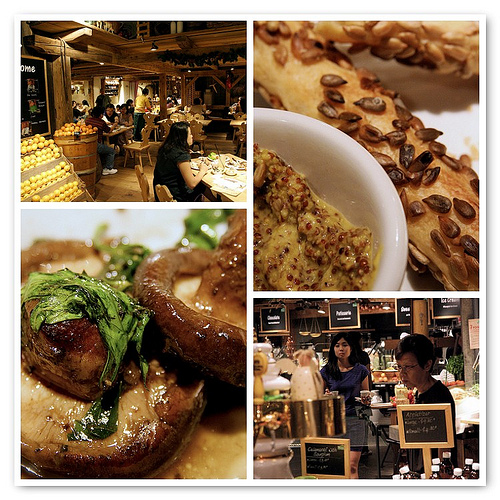 When you walk into Marché 313@somerset mall, you'll kind of feel disoriented, to say the least. From the outside, you see this green restaurant amidst Singapore's urban jungle. Just another one of the better bakeries in the city, you could say to yourself. A few steps in, down a spiral staircase, and you're suddenly surrounded by centuries-old pine logs taken from Swiss mountain cabins, flown in and painstakingly reassembled by craftsmen. Antiques and Goldilocks chairs complete the cozy Swiss Alpine house feel. And while this is sounding like Marché is all about being a European looking theme-restaurant, it's definitely not.
Marché's concept is to deliver fresh and healthy food fast. It's a multi-awarded restaurant chain whose vision is "to become the freshest gastronomy business in all of Europe." (I think the word "Europe" should now be replaced with "the world." They're all over Europe but are now actively expanding in Asia). Hence it emphasizes regional and seasonal ingredients wherever they happen to be located. Everything is prepared on site–from bread dough to hand-squeezed fresh juices. Nothing comes from commissaries.
There's a seasonal salad and vegetable station, which literally offers market fresh produce that is cooked per order. There's a homemade pasta/ravioli station as well as a wood-fired brick oven that churns out great pizzas. There's even a crêperie. At the center of the market is an apple wood grill where a good selection of sausages, lamb, pork and beef can be found. To the side of it is the rösti station where there's always a long line. The dessert station serves freshly baked cakes and pastries as well as Mövenpick ice cream.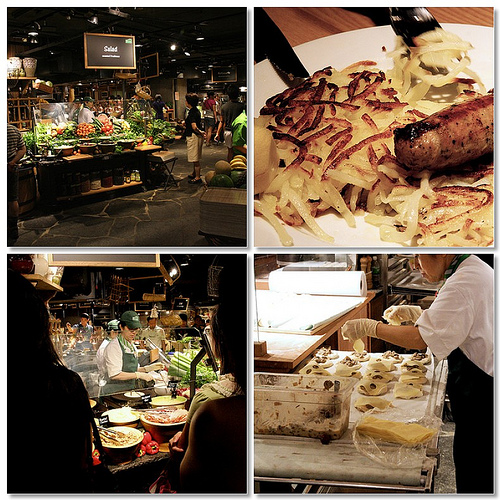 The problem with having too many choices is that it leaves you with analysis-paralysis. I suggest one does a walk-around before ordering anything.
For lunch I had some rösti, French garlic sausages, sautéed mushrooms with balsamic vinegar and parsley, a two-foot long pine nut-crusted sourdough bread stick with grain mustard and some freshly squeezed calamansi juice (I told you they served regional produce as well). All of it wonderful. Nothing was oily. The rösti, which was easy to drench in grease, had nothing but a pleasant hint of bacon. The mushrooms were cooked just so, still plump and earthy.
Marché employs a magnetic strip card system in which your orders are swiped in a "credit card" (handed to you upon entry) at every station you place an order at. After your meal you then check out by swiping the same card at the cashier's to find out the total damage. Quite efficient, yes but it's also very easy to get carried away swiping at every counter you find interesting. I had to remind myself a few times that it wasn't a buffet. At the end of the day I totally get what Marché stands for and it's definitely a better alternative to the many quick service restaurants out there in terms of food quality and healthy offerings.
Marché 313@Somerset
Level 1
Discovery Walk
313 Orchard Road
Singapore
Tel: (65) 6834 4041
Fax: (65) 6509 6104
LABELS: Anonymous Paul, Marché, Restaurants, Singapore, The Travelling Table