By Anonymous Paul on 13 January, 2010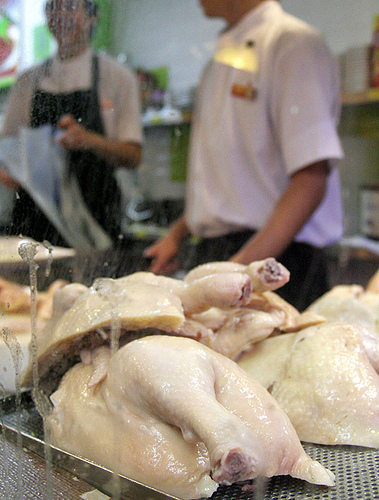 It's one of Singapore's national foods, along with chili crab and laksa. Obviously originating from China, Hainanese chicken rice is now actually more commonly assimilated with the everyday cuisines of Singapore, Malaysia and Thailand (where it's known as kao mun gai). I remember an uncle telling me one time having pretty underwhelming chicken rice in the Hainan province itself, proof how the original recipe has probably evolved due to the great chicken rice diaspora.
I notice it truly gets Singaporeans riled up when you ask them where to get the "best" chicken rice. There are many excellent traditional chicken rice places as Wee Nam Kee, Five Star and Loy Kee to name a few, not including the probably hundreds of independent operations in the food centers that sell them for less than S$2.00 per plate. But my favorite would probably be Boon Tong Kee, particularly the River Valley Road branch which has evolved from a single stall operation to a chain of restaurants.
Boon Tong Kee is actually a full-menu restaurant that serves other pretty tasty dishes as well. I couldn't get enough of the peanuts they serve as appetizers. Huge at almost the size of broad beans, they're boiled in a spiced broth and attain this pleasantly meaty texture. The Thai style deep-fried chicken feet was a pretty good starter as well–boneless chicken feet battered, deep-fried and topped with a sweet chili sauce. No more fidgeting around with bone shrapnel. It actually tasted like fried oysters.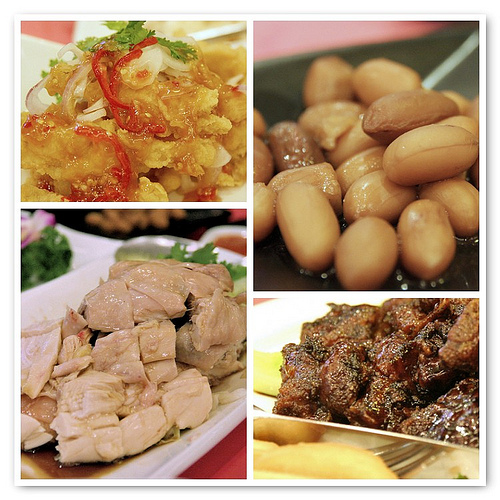 Another respectable one was the spinach with scrambled and century eggs in a salted fish scented broth. A popular item with the regulars were the spareribs with coffee sauce served with fried mantou. It didn't really taste like coffee but I suppose the addition of (I assume) instant coffee grounds provided for a smoky, caramel-ey background to the thick salty-sweet sauce. Nicely done.
Next came the star: the chicken rice itself. Shaped into the restaurant's signature pyramid mold, it possessed a golden hue and glistened from the chicken fat, broth and spices it was cooked in. The plump boiled chicken is usually served on a platter for sharing as opposed to being topped on rice as we're usually accustomed to. Tender and juicy with a great infusion of herbs, this bird was something special. The aromas just fill the palate with every mouthful.
I suppose everybody has his or her own special way of eating chicken rice. But personally I like to dab some kecap manis, chili and ginger sauces on a morsel of chicken meat atop some of the rice. I die a little bit with every spoonful.
LABELS: Boon Tong Kee, Hainanese Chicken Rice, Singapore