By franco on 4 January, 2010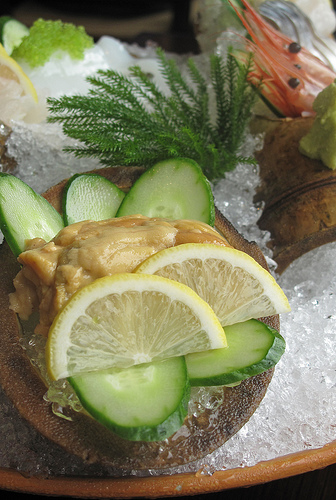 Uni Sashimi from Inagiku
There is an allure to eating your food raw.
While the notion of eating food uncooked may seem odd to many people, the Japanese have taken this idea and brought it to whole new level. With creation of sashimi and sushi, they have made an indelible contribution to world cuisine. But let's focus on the local…
I love the raw stuff. From intimate spaces like Hatsu Han-Tei and Kai to sumptuous pleasure domes like Inagiku and Umu, I am not one to deprive my craving. But with the explosion of sushi/sashimi dining options, finding the 'good stuff' has become a challenge. I'm always looking to upgrade my sushi/sashimi experience. So I figured who better to ask than my fellow judges for Spot Gold Awards. So I ask the question:
When you get the a craving for sushi or sashimi, where do you go?
JJ Yulo says:

Well, I have to say that my sushi/sashimi eating has gotten a bit complex — in the sense that I think we're catching and consuming way too much of it (to put it simply, I want my kids to be able to enjoy sushi when they get older too!) … having said that, I don't really subject myself to cheap sushi anymore. When I get a craving, I make sure it's high quality — so I head of to Inagiku (my fave sushi spot) or Tzukiji (where I get my sashimi fix).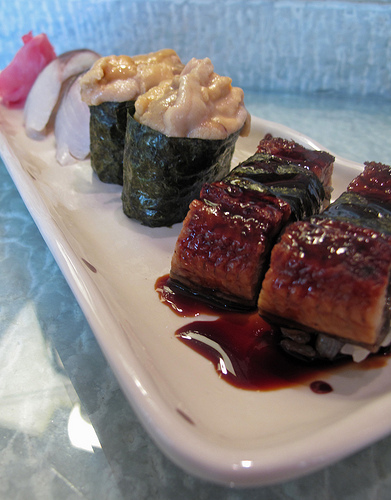 Serving Up the Sushi at Kai
Chef Him Uy De Baron says:

Someone I trust. I'm the consultant for East Cafe in Rustan's Makati and we serve sushi/sashimi and maki's so that's where I get my raw fish fix. Aside from that, trusted hotel buffet's because you know its fresh.

Cherie Gil says:

I want to go to New York City. But alas I'm in Manila so I opt for Umu or Sushi Kappo.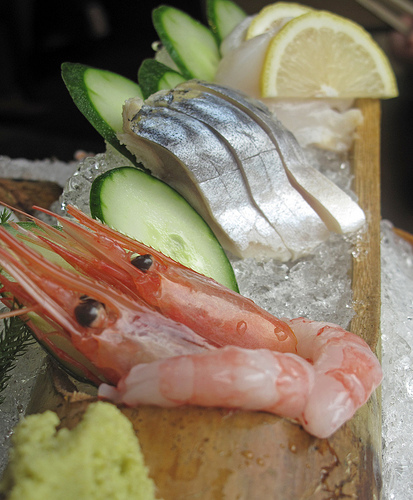 More Sashimi from Inagiku
Chef Aileen Anastacio says:

For sushi and sashimi, I go to

Sugi

. It's like my second home. my store Goodies n' Sweets used to be across it when it was still at the crossroad arcade in Greenhills so i go there when i get the sushi/sashimi craving.

I also like

Kikufuji

in Makati. Prices are reasonable and serving portions are pretty generous.

Becky Kho says:

Tsumura! I just had dinner there last night and I had the absolute pleasure of rediscovering how creative and masterful Chef Tsumura really is.
To vote for your favorite restaurants for the Spot Gold Awards, please click here.
Much thanks to JJ Yulo, Chef Him Uy De Baron, Cherie Gil, Aileen Anastacio and Becky Kho
Kai
Unit I-112
Greenbelt 5
Ayala Center
Makati City
Tel: (02) 757 5209
Inagiku
Level 2
Shangri-La Hotel Manila
Ayala cor Makati Avenue
Makati City
Tel: (02) 813 8888
Fax: (02) 813 5499
LABELS: Japanese, Manila, Restaurants, Sashimi, Sushi, Table Conversation