By franco on 7 January, 2010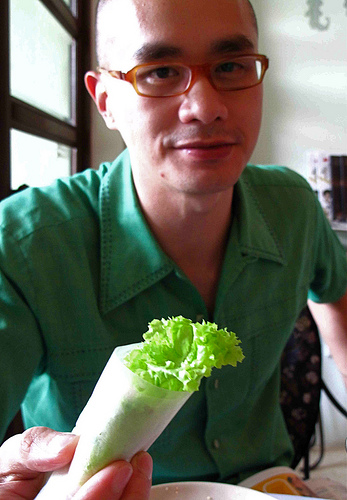 Meet Chef Him Uy De Baron (yes, that is him real name).
The executive chef of a catering company called Chef Cuisine, Chef Him prides himself for not only catering to his client's culinary desires at any price point but also for bringing the focus back to where it should be  —the creation of sumptuously memorable meals. Don't be distracted by the name. From my personal experience, the only thing more distinctive than his name is the deliciously vibrant flavors and meticulous attention to detail Chef Him brings to the plate. His is a name definitely worth remembering.

Who in your life has influenced your cooking the most?

My mom. I grew up with my mom manning the kitchen for every meal especially on special occasions. These food memories have influenced my own cooking.

Which book has had the biggest impact?

On food and cooking, The French Laundry Cookbook. It opened up my eyes to how a genius and perfectionist is at work and what a near perfect kitchen looks like. Non-food related, it has to be the bible. It has saved my life and it continues to be a source of strength and purpose, refreshing our lives.

What was your first job in the food business?

I was a busboy for a cafe.

When did you decide you wanted to start Chef Cuisine?

A client came to me to meet about a consultancy job for an existing catering company. One thing led to another and now here I am..

What is your favorite item on the your menu?

The great thing about a catering company is that there is no daily menu. You're free to cook up a different menu every single event and I enjoy creating new menus for specific needs of my client. I do enjoy cooking Asian food with big bold flavors.

Which restaurant meal (foreign or local) do you remember the most?

The original Soleil. I was a student then and had to save up to bring a date there. I had the legendary sea bass. It was sublime, a revelation, a bite I wont forget. It showed me first hand what food and the whole restaurant experience was capable of doing to a person's senses. And I also like Alba's where I told my future wife I liked her…

Besides your own place, what's your favorite restaurant in Manila?

It really depends on our mood (me and my wife) but we do have safe bets and constants that we go to. For Italian, it's Balducci or a little mom-and-pop place called Pizzaria Toscana. For a quick satisfying noodle place, it's Beijing Hand Pulled Noodles. For simple but excellent Filipino food, 1521. I also love ramen at Aji Sen. Dimsum and Chinese at Shang Palace. For Thai, I like People's Palace.

What junk food do you love?

Chips and KFC Hot Shots. The crunch of MSG-laden fried food is simply too difficult to resist.

Is there a food you just can't seem to enjoy?

Pretentious food.

Just between us, what are your future plans?

I've been wanting to open up my own joint with my own food and style. I'm hoping it will happen within a year or two. I've been really patient with this because I want it to be right. It has to be the right time, right place, right staff, right partners and the right season in my life. I do feel it's fast approaching.
Chef Cuisine

3rd floor

The Centerpoint Condominium

J. Vargas cor Garnet Street

Ortigas Center, Pasig City

Tel: (02) 633-6577

Fax: (02) 633-6579

Email: chefcuisine06@gmail.com

Website: www.chefcuisine.multiply.com
LABELS: Chef Cuisine, Him Uy De Baron, On The Table