By franco on 28 January, 2010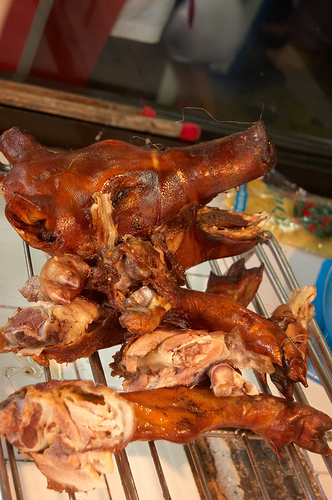 Nothing to Waste
Hello. My name is Franco. I'm a porkalohic.
People who know me well know that I have a love for the pig, bordering on obsession. And although most food resolutions during this time of year are all about cutting back and eating healthier, I'm planning to eat more of the piggy kind.
It isn't so much about quantity but more about quality. More precisely, I'm working toward organizing a meal that any pork lover would give their right arm to attend. This dinner will involve the entire pig but it is not about creating a lechon fest – so many do that better than I possibly could.
I am a huge fan of Chef Fergus Henderson. At his London restaurant, St. John, he and his partner, Trevor Gulliver have created a venerable temple to feasting on the entire animal. They call it Nose to Tail Eating. It is because of Chef Henderson's innovative menu, many diners have rediscovered the delectable joys of offal, gamey meats and other ignored cuts of protein. It is in keeping with Chef Henderson's philosophy that I am hoping to organize (with the help of some like-minded souls) this meal.
For me, this is the year of the pig. I will keep you posted.
Photograph by Erik Lacson. Thank you.
LABELS: Food Resolutions, Franco, From Nose to Tail