By franco on 19 December, 2009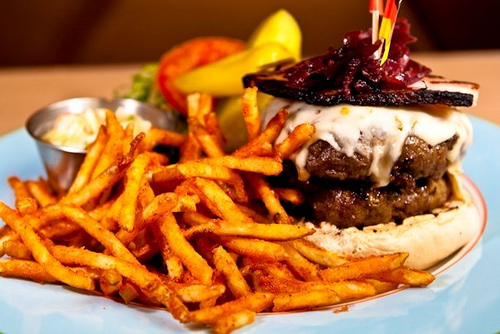 My Kryptonite: The Superman Burger
Remember the diner craze of the early 90s?
For those of you not old enough to remember, there was a point in time when would-be Manila restaurateurs were all taken in by the idea of the 1950s diner. It almost seemed like everyone's mother's uncle owned one of these faux art deco eateries of chrome and linoleum paying homage to an American era long past. At these local diners, American fast food was king and a cheeseburger with fries and vanilla milkshake were always the meal du jour. Sadly, most of these Manila diners never really got their food quite right. The word bland comes to mind.
In the end, like many other food crazes (pearl milk tea, shawarma, lechon manok come to mind), the diner concept was all but doomed to extinction…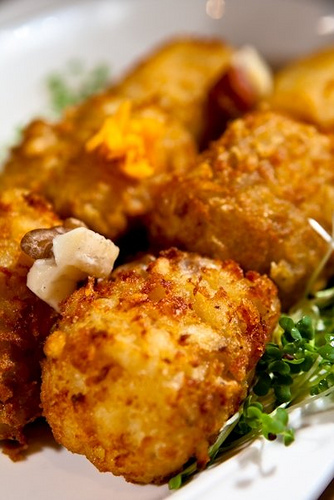 Tater Tots to the Max
Fast forward to 2009. The diner may have been given a new lease on life. The Raintree Group, the same people responsible for Chelsea, Momo and M Café, just opened a restaurant called Mr. Jones. Gone are the gleaming white linoleum, overused deco design and the 50s Americana. In its place, Mr. Jones with its high ceilings, golden fabric-covered walls, sea foam green diner chairs and hot rod red booths is bring a modernized 60s hipster vibe to the old idea of a diner, making it new, more upscale and possibly even cool again.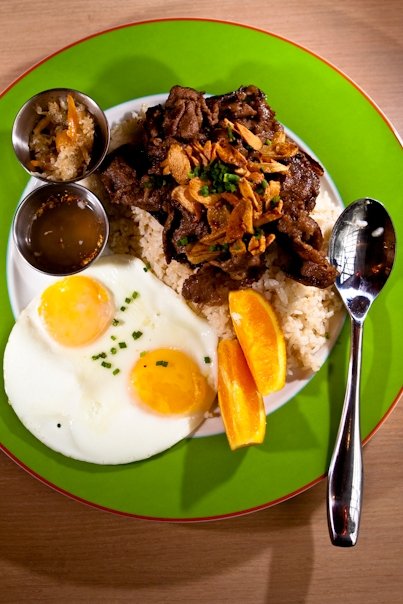 The Overload
We started with quick, playful appetizer called Tater Tots to the Max 3000(P220). Thumb-sized, cylindrical mashed potatoes snacks are stuffed with a variety of fillings from broccoli to Jamon Serrano and Gorgonzola to walnuts. Deep-fried and dipped in a choice of Cheddar or sour cream and chives, these little 'tots' add a delectable crunch to the start of our meal.
Wanting something more Pinoy, we just had to try Mr. Jones' take on a breakfast classic, the Beef Tapa and Garlic Overload (P295). This dish is not so much a meal as it is more like a small mountain of marinated, pan-fried strips of beef topping an equally generous amount of garlic-infused rice. If that is not enough garlic flavor, chips of thinly sliced garlic garnish this seemingly boundless dish. Did we forget to mention it comes with eggs as well? In fact, there was so much food on the plate that halfway through the meal, A. had to relent–no mas.
I love my pork more than most. So for me to order the Grilled Maple Glazed Pork Chops with Applesauce (P420) was a no-brainer. Maybe it was the maple glaze, the apple and apricot sauce or the bed of spiced pumpkin puree but every bite just felt like a bombardment of sweetness. It was so sweet that I wondered if this meat dish would have been off being placed dessert menu. Where is my porky goodness, Mr. Jones?
What is a diner meal without a deliciously, heart-attack inducing cheeseburger and french fries.?On this diner staple, Mr. Jones delivers in spades with The Superman Burger(P420). A fire-grilled beef patty, topped with melted American Cheddar and crispy smoked bacon and served in between a toasty warm, sesame seed bun, this sandwich is a hamburger lover's decadent wet dream.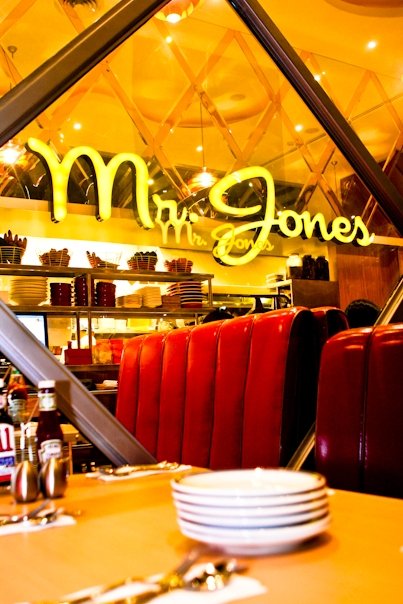 Seating around Mr. Jones
Yes, it is relatively expensive. But every dish is a deliciously more than substantial meal. Sharing is more than encouraged. It's a necessity. I may not have cared much for 90s diner food craze but Mr. Jones just might have changed my opinion that good eats are possible at your local diner. Give it a try. It just might surprise you.
Much thanks to

Michael Wisniewski

for the photographs
Mr. Jones
Ground Level

Greenbelt 5, Makati City

Tel: (02) 501-3682,

(02) 501-3683
Email: eat@mrjonesrestaurant.com
LABELS: Manila, Mr. Jones, Restaurants, Table Suggestions