By franco on 2 December, 2009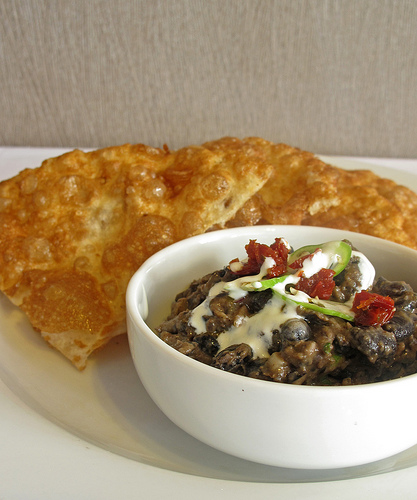 Fried Flatbread with Black Bean Hummus
I want to be a regular.
You know that breed of restaurant customer that makes a restaurant a second home. Part personal kitchen. Part clubhouse. Being a regular means understanding the ins and outs of your chosen eatery and the restaurant staff knowing you beyond your name and credit card number.

feeds your soul as much as it feeds your stomach. It should be a place where you can retreat from the world.
Lately, business meetings and doing lunch with friends has meant spending an unusual amount of time in Quezon City. And for some unknown reason, the restaurant of choice has always been Restaurant Uno.

I love Uno. This Tomas Morato staple has been at the same location for so many years that it is practically an area institution. Over the years, the restaurant has seen some improvements: a second floor and a bit of color on the walls and a menu that continues to change and evolve.
But at the core of all these changes is its philosophy of simplicity, f  ocusing a customer's attention on the food and the joys of the meal.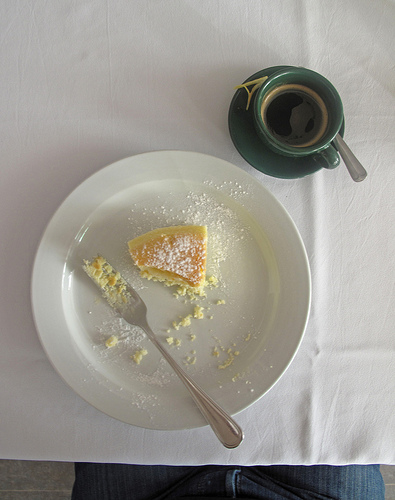 Cheesecake with an Espresso
In the past month, I have been to Restaurant Uno at least five times. From full-course meals to a scrumptious snack of cheesecake with a cup of espresso, every meal has been delightfully comforting. Admittedly, this is not a sophisticated place that provides 'wow' moments with every bite and the service staff may need a bit of warming up. But I always return because this restaurant is slowly becoming my home away from home. And when my meal ends, I always leave rejuvenated, with a smile on my face.
Restaurant Uno



195-C Tomas Morato cor.

Scout Funtabella Street

Quezon City

Telphone: (02) 374-0774
LABELS: Becoming Regular, Franco, Restaurant Uno, Table Conversation