By frannywanny on 20 November, 2009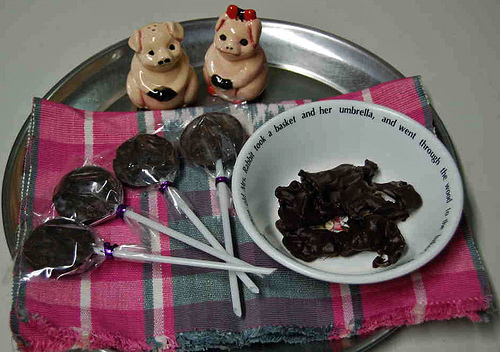 Eating always brings delight to everyone — male and female, young and old… no matter where we are, we always enjoy tickling our taste buds with flavors that match our senses.
Some may have a liking towards salty dishes while others would always prefer to add some chili to make their food spicy. Children and the young-at-heart always look forward to sweet treats and a handful can withstand and actually do enjoy food with a little sour note.
However, for the adventurous foodies out there, we have these special food items that combines the wildest flavor possible. The Thais have been pretty creative in mixing two contrasting flavors in one. From the Spicy Tamarind to a bowl of Tom Yum , a trip to Thailand is definitely a gastronomic must-do to try these wonderful creations. The Japanese are quickly catching up too. Last year, I tried a box of Royce Chocolate Potato Chips that coats each salty potato chips with Royce's signature sweet milk chocolate. There's also the famous Wasabi Ice Cream that has a mix of spicy wasabi powder and sweet vanilla ice cream. The list goes on and on for the ever-creative Japanese food experts.
Of course, the Philippines also has something to be proud of. Just two week ago, I chanced upon Erica Paredes and her recently-launched business called Happy Bacon which has two specialties as of the moment.
First is the Piggy Stardust which are chocolate covered bacon bits. Each bite will give you a good sweet-salty combination. While I am not a huge fan of bacon, I enjoyed Erica's Piggy Stardust because the bacon has a smokey taste that gives a more intense flavor for you to enjoy. Meanwhile, kids will definitely love the Pig Pops which are handy Chocolate lollipops with bacon bits. Each chocolate lollipop has a generous mix of bacon that blends in perfectly as the chocolate slowly melts in your mouth.
The name is perfect as enjoying Erica's creation will definitely put you in a happy mood. It's your perfect lazy day indulgence. Gone are the days that bacon is just part of your breakfast spread or is neatly tucked into your sandwich. This time, it is beautifully coated with rich chocolate allowing you to enjoy the perfect marriage of sweet and salty flavors all combined in one.
Franco's Note: Much thanks to Frannywanny of Flipflopping My Way Around Town.

Happy Bacon
Erica Paredes
happy_bacon143@yahoo.com
LABELS: frannywanny, Happy Bacon, Taste Contraditions