By franco on 5 October, 2009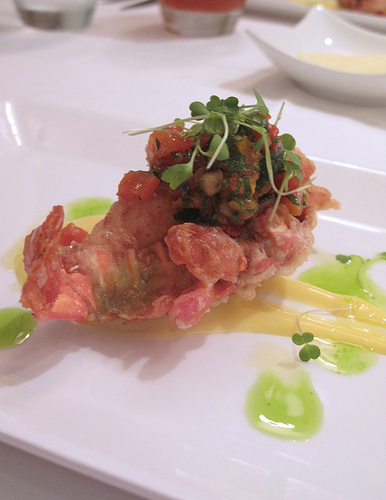 The Salad of Crispy Lobster Tail

Being a food blogger has its benefits.
One of them is the continuing motivation to discover the new and undocumented culinary experiences the world has to offer. The downside? The seemingly never-ending need to discover the new and undocumented culinary experience the world has to offer. Simply put, it's a double-edged sword.
I love my Eggs Benedict from Mamou. I crave for my double beef patty burger from Charlie's. I adore my Peking Duck from Shang Palace. As much as I would like to keep talking about these experiences, I cannot. It would probably bore you (and me) to death.
Which brings us to topic of Sala Restaurant. Many of you who are of my age bracket will remember that Sala was a fixture of the defunct Remedios dining scene of the 90's. At the time, Sala was an oasis of tranquil sophistication in Malate's sea of boisterous bars and oh-so-trendy restaurants. I had dined at the old location more than a few times before their move to their current abode. But sadly, I always felt a little poorer (literally and figuratively) for the experience. I am not saying that Chef Colin Mckay's food was not delicious or that his restaurant was not understatedly stunning. But Sala always left me wanting more. In the end, I became cool to the idea of eating at Sala ever again.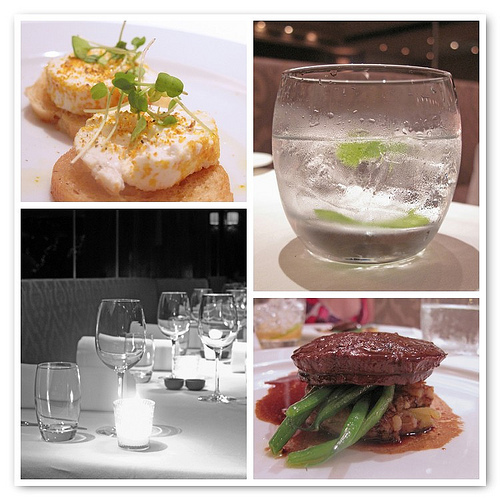 from top left, clockwise

Goat Cheese Crostini, Vodka with a Lime Twist,
Poached Beef Tenderloin with Celeriac Gratin, Sala's Table Setting
Things have changed.
Now, nestled in the heart of Manila's corporate district and with a new executive chef (Chef Carlo Miguel of retired Mezzaluna) running the kitchen, Sala has moved on to become a favorite of the corporate expense account and the ladies who lunch crowd. Sala is not a scream but a whisper. Its somewhat out-of-the-way location (away from the malls) and cool, minimalist interiors speak of the soul of this restaurant. One does not think about going to Sala. One decides to go. It is a 'destination' restaurant that highlights the sublime and simple elegance of dining out.
Tonight, we are treating ourselves to Sala's Tasting Menu (P1800 without wine tasting)–a five-course meal showcasing the best of Sala's menu. After a quick amuse bouche, a Crostini topped with Goat Cheese and Orange Salt, we are served our first two courses in quick succession, a Salad of Crispy Lobster Tail accompanied by a Corn Puree and Roasted Pepper Salsa and a Lavender Smoked Duck Breast with Shaved Foie Gras, Pear and Truffled Dressing. These starting courses are an odd yet delectable duo. While the 'Salad' of Crispy Lobster Tail does not comfortably fit into the definition of a salad (lacking the expected greens), the Smoked Ducked Breast seemed to be more of a salad course with the smoked duck thinly sliced over a bed of peppery arugula. But beyond their descriptions, each dish deliciously spoke to the importance of contrasting textures and well-balanced flavors. Next, we have two main courses: a fish course of Olive Oil Poached Swordfish and meat course of Red Wine Poached Angus Beef Tenderloin. Each dish is visually simplistic and yet each bite reveals new depths of tastes within each dishes.We end our meal with dessert, a Raspberry and Passion Fruit Baked Alaska. It could have been a letdown to end the meal with such cliché of a dessert. But after savoring it, there is something comforting finishing with ice cream encased in a soft, slight browned meringue balanced by the tangy sweetness of both the raspberry coulis and passion fruit sauce.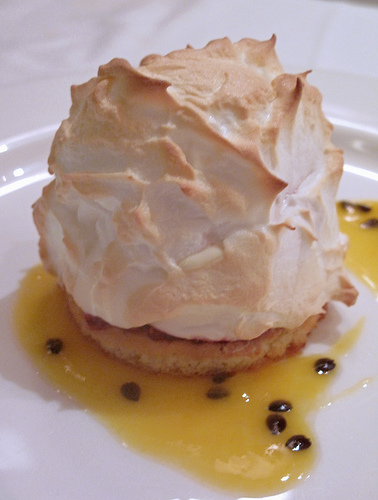 Raspberry and Passion Fruit Baked Alaska
Expensive? Relatively. Pretentious? Maybe a little. But this bright gastronomical light in the center of Manila's stodgy corporate center is a dining experience that can easily match any in the world and it is a meal that should not be missed.
Franco Note: I am in mourning. Gourmet Magazine is dead. Another victim of the global recession. To find out more, click here.
Sala Restaurant
Podium Level
LV Locsin Building
6752 Ayala Ave cor. Makati Ave
Makati City, Metro Manila
Telephone: (02) 750 5159
Fax: (02) 751 9424
Email: info@salarestaurant.com
Website: www.salarestaurant.com
LABELS: Franco, Manila, Restaurants, Table Suggestions