By Mariko on 11 October, 2009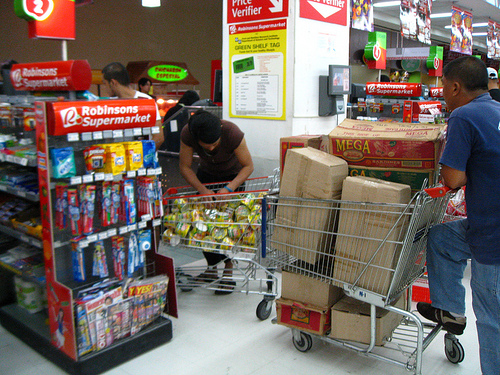 Donations or Panic Buying?
I intended to buy just a few things at the supermarket last Friday (October 2) –pancake mix, maple syrup, a few canned goods (guilty! Because, really, who has time to whip up a fancy breakfast when you're rushing to get ready for work?). As I walked in, I realized that it was no ordinary trip to the grocery. Long queues were formed, snaking towards the many cashiers; practically each person in line had a shopping cart brimming with provisions, and a look of worry on his or her face.
If there is a calm before the storm, there is also the frenzy before the calm before the storm.
Viewing what a friend called the abundance of "weather porn," the masses had their fill of doomsday predictions, an early 2012 brought about by the coming Typhoon Pepeng. I made my way to the canned fish aisle and found the tuna shelf ransacked. I had to make do with some flavors we'd never tried before as B's old standbys were out of stock.
As I walked past a couple of yuppies, I heard them tsk-tsking as they witnessed what they deemed to be mass hysteria, the panic-buying that was occurring at that very supermarket and in supermarkets across the metro. But I thought, panic or no panic, it always, always pays to be prepared. I thought about my best friend who was stuck on the second floor of her house for days, and who had to clamber up onto their roof, waving at passing helicopters for food. (She was ignored.) I recalled the story of another friend, whose young children were among two dozen people (their neighbors included) trapped in a tiny room on their second floor; he and his wife were prevented from making their way back into their house by the raging flood. With barely any food, 24 people had to content themselves with a shared can of Spam at some point.
Those yuppies could tsk-tsk all they want, but we really can't judge people when they go into panic mode. It's the survival instinct kicking in–we don't know what they've been through. A shopping cart full of canned goods isn't an over reaction when it can bring something truly priceless: peace of mind.
And should the storm pass rather uneventfully (as it did over Manila), then those canned goods can still be put to good use–they could be given to those who are still reeling from the effects of the last epic flood.
Much thanks to Jo Manalastas of Spot.PH
LABELS: Buying Peace of Mind, Mariko, Table Conversation