By franco on 13 October, 2009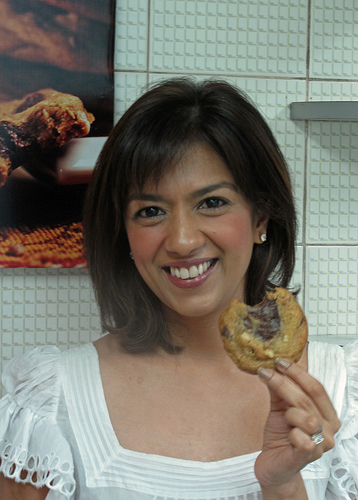 For someone who claims not be a dessert person,
Roshan Samtani
has us all completely fooled. Baking in her surprisingly small home kitchen, she creates some of the most delectable desserts that have become family favorites around Metro Manila. And while she may not consider herself a 'dessert person' to her loyal customers, she is the font of everything that is scrumptiously sweet.
Who has influenced your baking/cooking the most?

I have not studied formally. So I don't have the one mentor who was most influential. I think it's the people who eat the desserts who influence me the most, what I feel they would like or what they would be looking for next. That is how I come up with most of what I do, especially the most popular ones.

I try not be very structured in the way I bake. I try not be very modern. I'm more the homemade, old-style, small-batch way of baking.

What books have influenced you the most?

The books I like are not necessary the books I bake from. I like the books of David Lebovitz because he is fun. I think baking should be fun and not so difficult. Some people make baking look so hard to do. But it's not rocket science. And you don't need the best equipment to bake well. Most people would be surprised [to see where I bake], nothing high-tech. It's home stuff, nothing a normal household would not have.

I also like to read Maida Heatter because I like the way she always puts a little story. You can see the history behind the recipe and I also like how she explains things. Even if you don't use the recipe, you learn something from reading it that you can apply somewhere else.

What made you decide to start Homemade by Roshan?

There was no real start. When I was doing my college thesis…we [Roshan and her thesis mates] had to put up a business for a year. We set up a company called Chocoholics Incorporated. We made chocolate truffles and brownies. It became very successful in the few months we were running it. I was always into baking. Even as a child, I liked to make small cookies and such. So when we had a [thesis] group, I told them I could teach them to make the stuff and food is always easy to sell, especially chocolate.

After [the thesis] was done, I continued to bake at home. I would make [desserts] for parties at home. Someone would always ask me to make something for them. And I used to give it away until, my dad said," You will go broke!" because the ingredients were all starting to add up. People began to say, "No, don't give it to me. I'll order it." So it started from that.

Of the desserts you make, what is your favorite?

I'm most proud of my cookies. It's a little bit surprising for people because cookies are something that seems to be simple and that anyone can do at home. But to get my cookies right required the most work for all of my desserts. My cookies required the most science. What brings me happiness is when someone bites into the cookie. It may just look like a cookie but when you eat it, something lights up.

What are your favorite (local or foreign) restaurants?

An old favorite is Chef Jessie Sincioco's Le Souffle. I have had many great meals there over the years. I particularly love her Roasted Rack of Lamb Provencale, which never fails to satisfy.

Another favorite is Chef Tonyboy Escalante's Antonio's in Tagaytay. The combination of his superb food (I love the steak!) and that out-of-town air makes it well worth the drive.

What was your most memorable meal?

I've had so many memorable meals, far too many to recount. But all of them had the following elements: good food (many times home-cooked), great people to share the meal with, good conversation and lots of laughter.

What is your favorite junk food?

I like the regular Cheetos. After trying everything–the puffs, the jalapeno- flavored which were good in the beginning–I went back to the regular [Cheetos]. I like nuts, which isn't junk actually.

Is there food you hate?

Lots. I'm not into the 'reality show' kind of food, all these strange and exotic stuff. I don't like cooked vegetables. I prefer them raw or if they are cooked, they should be cooked a little. I can't eat the mushy stuff.

Just between us, what are the future plans of Roshan Samtani and Homemade by Roshan?

Everyone asks me if I want to open something in a mall. I'm not saying never but it's not a plan. It's not something my heart desires. I like doing this [baking and working in her home]. Because when I do this, I can actually bake. When you go bigger, you are not baking anymore. You're running a business. There is just no time [to bake].
Homemade by Roshan
Telephone: (02) 631 7786
Cellular Phone: (0917) 833 6286
Website: http://homemadebyroshan.com
LABELS: Homemade by Roshan, On The Table, Roshan Samtani