By Anonymous Paul on 28 October, 2009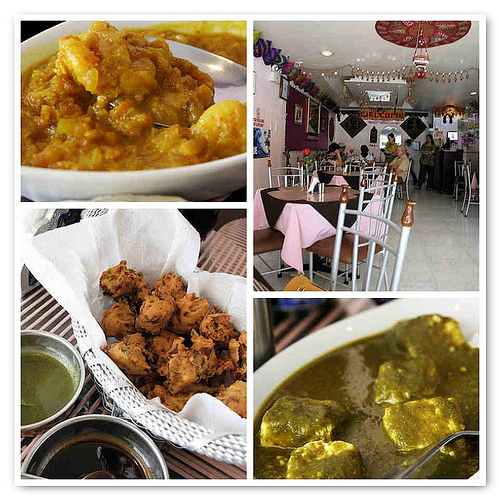 I had expected to see Ms. Khanchandani as we entered
Swagat
. Not that I know her personally. And not that she would even know who the dickens I was. But I've actually been to this place several times when it opened a few years back and noticed her around even back then. She'd personally greet diners and often asked Indian food first timers if they needed any help maneuvering the quite extensive menu. She'd then disappear out back where I assume she'd cook the orders. This place was a tight ship. A one-woman-show.
So maybe a year or two has passed and found ourselves again faced with Mrs. K. This time, though, I asked her if she could order for us. Initially letting us know of the "best-sellers" (a term that turns me off in restaurants), I told her we didn't care for them and would like to sample some food she would order herself if she were in our position. A bit taken aback she leafed through the menu and recommended the following: Onion Bhajia, Chicken Tikka Masala, Shrimps Masala, Buttered Naan and Palak Paneer.
Ok, so this wasn't quite the lineup I was expecting. Given the exhaustive list of vegetarian and non-vegetarian items on the menu, I would've assumed to have gotten a less "common" selection of dishes. And something a little more "kosher" than Chicken Tikka Masala (because last time I checked this dish in fact has roots in Glasgow, which is not anywhere near the Ganges). But, oh well, we decided to go along with it. Maybe there was a reason why she picked them out.
In all fairness, the Onion Bhajia (P100) were excellent; a fine example of properly fried fritters. Not at all greasy and was fluffy on the insides. The Chicken Tikka (P225) and Shrimps Masala (P180) were good in that you could tell the ingredients were fresh and the meats were fork-tender. The spices were spot on, although I did think it needed a bit more heat after stating we wanted the dishes "medium spicy". I hardly broke a sweat. The Palak Paneer (P125) was undoubtedly home made; the cheese soft as opposed to being rubbery. My only gripe would probably be food quantity. Four dishes, not including the Butter Naan (P70), between two moderate eaters and we were still hungry. Could it have been the hunger fueled by drinking a whole 650ml bottle of 7.2% alc ,Kingfisher (P225) by myself on an empty stomach? I doubt it, as my petite companion, who normally eats like a bird, was asking the same question. There was a lot of gravy but, really, where was the beef?
So I order dessert, which I don't normally do, hoping to top things off. And as seemingly unappealing as the
Kulfi (P90)
may have looked, like shaved shingles in a tiny cup, I found it quite perfect to end a heavily spiced meal with. Rich, dense, milky, nutty and sweet; spiced as well but just cut across the heavier tasting past dishes.
No question, I found the appetizer and dessert quite satisfactory. The in betweens left a bit of a question mark. Not to say it was a regrettable meal. I just had unfairly higher expectations of this place this visit. But now I do remember what Swagat is all about. It's definitely not about extravagant ghee drenched Indian food (which was sort of what I wanted at that time…and still do). It's about providing authentic, home-cooked Indian food for those who miss it, who need a fix; with the no frills atmosphere. And if that's the type of Indian food you're looking for then this place definitely delivers. However, I do suggest you delve into the loads of more interesting items on the menu.
Swagat Indian Cuisine
119 FCC Building, Rada Street
Legaspi Village, Makati City
Tel: (02) 501-5079 or (02) 752-5669
Fax: (02) 888-2560
Email: kkhanchandani2000@yahoo.com
LABELS: Anonymous Paul, Eating Indian, Manila, Restaurants, Swagat