By franco on 25 October, 2009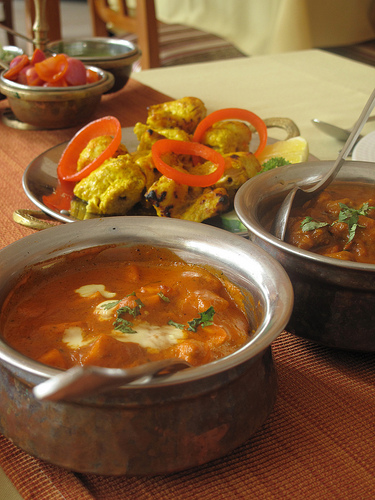 I don't know much about Indian food.
Foodie friends knowledgeable in all things Indian believe that you cannot have an authentic meal in Metro Manila. Only an invitation to an Indian household would come anywhere near a true Indian meal. Sadly, those are few and far between. So I am left with only one other option, dining out.
You would think that with Indian food being a world cuisine and with an ever-growing community in Manila, an Indian restaurant should be in every area of the city. Sadly, you would be wrong. There are a few, mostly concentrated within the central business district of Makati.
After a little bit of discussion, my friends (the same ones who said you couldn't get a decent meal) relent and provide me with a short list of restaurants to choose from. With my friend M in tow, we decide to have lunch at the oddly named restaurant called Queens Crystal Garden.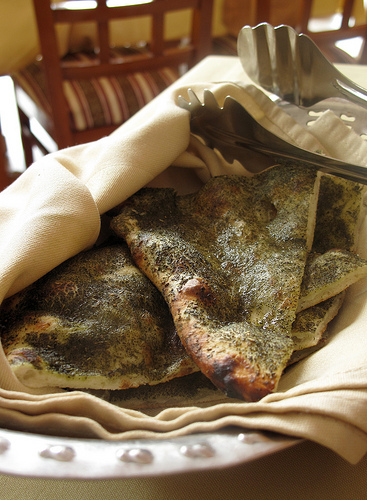 With its Chinese-sounding name, muted golden interiors and floor to ceiling windows, one cannot be faulted for thinking that it is a Cantonese restaurant. But it isn't. While most perceive Queens to be an Indian restaurant, its menu says otherwise. The first part of the menu is a hodge-podge of Southeast Asia cuisine: Malayan, Indonesian and even (if memory serves) at bit of Chinese thrown into the mix. The other part of menu is all-Indian. Queens calls it Asian Fusion. I call it hedging their bets (a manifestation of buffet mentality, perhaps).
When it comes to the ways of Indian cuisine, M and I are relatively ignorant. So we do what any customer faced with a menu of unusual names and unfamiliar dishes would do, we ask the waiting staff. But faced with congenially sincere and yet uninformative responses (such as "Sir/Ma'am, everything is good"), we are left to rely on little crowns (this is Queens after all) marking restaurant recommendations on the menu as guides.
Having tried our fair share of Indian breads, M and I decide to try something unusual, the Naan Pudima (P110). Naan, a flat bread baked in the heated sides of a tandoor oven, is fairly common in most Indian menus. But what makes our order unique is a thin layer of finely minced mint leaves baked into crust. Crisp on the outside and yet pillowy soft on the inside, the Naan Pudima with its minty aftertaste was the perfect foil (and utensil) to the spicy dishes that were to follow.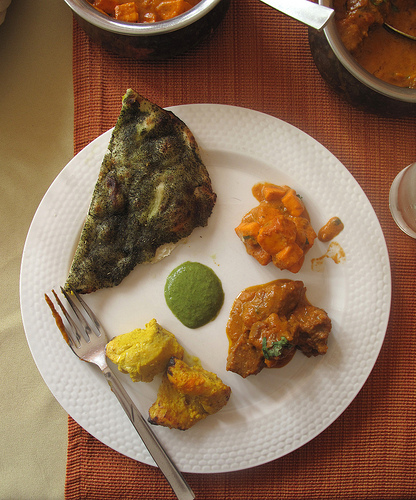 The rest of our dishes arrive at the same time. The
Paneer Makhaniwala

(P300)
is a dish of firm cubes of white cheese cooked in a fragrant stew of tomatoes, cream, clarified butter and chilies. A regional specialty of Kashmir,
Rogan Josh

(P420)
is mutton slow stewed in a deeply flavorful masala sauce with saffron and yoghurt. Lastly, the
Reshmi Kebab

(P350)
are cuts of chicken breasts marinated in a 'homemade' spice rub and quickly grilled on a skewer in a
tandoor
oven.
We absolutely enjoyed the rich, intricate layers of flavors of the Paneer Makhaniwala and the Rojan Josh. But what truly was as delectable surprise was the Reshmi Kabab. The generous cubes of chicken breast (a difficult cut to cook) were perfectly grilled. Tender juicy and yet thoroughly cooked through, the chicken had just enough piquant kick to keep things interesting. My only issue with the meal (which was no fault of the restaurant) was that we should have not been such wimps and opted for dumbed-down spiciness. Asking for "Medium hot, please." was a mistake.
I don't know much about Indian food. I do know what enjoy eating and I love the delights of Queens Crystal Garden. But next time, I'm going to ask them to bring on the heat.
Queens Crystal Garden Restaurant
146 Jupiter Street
Barangay Bel-Air
Makati City
Tel: (02) 895 1316 or (02) 895 1816
LABELS: Eating Indian, Franco, Manila, Queens Crystal Garden Restaurant, Restaurants