By franco on 16 September, 2009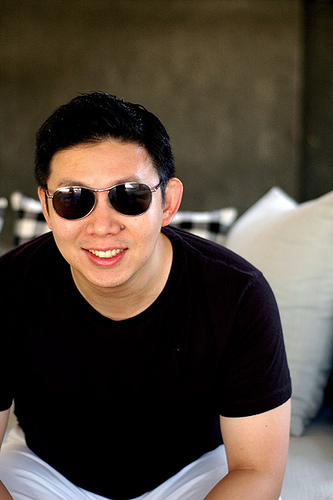 To say we are fans of Aun Koh would be a gross understatement. Besides documenting his culinary adventures on his popular food blog, Chubby Hubby, Aun and his wife, Tan Su-Lyn busy themselves consulting for luxury restaurant and hotels and creating the annual Miele Guide. His rich gastronomic tales and mouthwatering photos have established Aun's reputation as a true food blogger's blogger.
What made you decide to create Chubby Hubby?

Chubby Hubby came about through chance. I was in charge of organizing the Singapore Writers Festival back in 2005. The Chairman that I had appointed had suggested we incorporate blogging into the Festival program—using blogs as a way of marketing the Festival as well as inviting famous bloggers to sit on panels. I had no idea back then what a blog was. But when I started investigating them, and especially when I came across the then-new world of food blogs, I was hooked. As an ex-writer, photographer and magazine editor, I thought a blog would be the perfect hobby. I still missed writing and taking photos so it was a great creative outlet. And as a passionate foodie, naturally, I decided to tailor my blog around my gustatory cravings.

You are one of the creators of the Miele Guide. Why did you decide to take on this challenging endeavour? And how is the guide created?

Both my wife and I have long wished that there was a standard in Asia, equal in stature to how Zagat is respected in America and how Michelin is in Europe. For the most part of our professional careers in the media in Asia, there was no such standards. In fact, most of the restaurant guides that did exist were highly unprofessional in that they had no integrity—they asked restaurants to give reviewers free meals and charged for the amount of editorial space they would eventually receive. Su-Lyn and I have also been part of the jury for Restaurant Magazine's World's 50 Best Restaurants for many years. And while I highly respect this survey, in its early years, it was heavily biased against restaurants in Asia, i.e. the way the voting was set up meant that no Asia-based restaurant could ever rise to the top. This only motivated us even more to set up a credible Asia-regional restaurant guide, with evaluations and rankings, that, while debatable (as they all are), would be respected by the industry. Most importantly, a chef from Asia could go to the West and be able to say with pride that he had some form of recognition from his region, the same way European chefs often tout their Michelin stars during overseas promotions. We were simply very lucky that the folks at Miele understood and shared our passion for the F&B sector in Asia and recognized just how important a guide like The Miele Guide could eventually become.

Your 'day job' requires a lot of travel, can you tell more about it? And are there any travel destinations that you would recommend?

I run two small companies. One is a small publishing firm. We publish The Miele Guide annually plus we take on a lot of cool custom publishing jobs. The other firm is a lifestyle consultancy. We have three teams specializing in three areas: F&B development; public relations; and marketing. Most of our work is related to the F&B industry, hospitality and travel industry, and the luxury lifestyle market. I travel quite a bit because of our F&B projects. Last year, we developed a bar-restaurant concept for a client in Dubai; most recently, we helped create and open all the F&B outlets for a hotel in China. We're currently working on a fast food company in Indonesia. I also travel because of some of our PR (and other) clients. We handle the Asia PR for Mr & Mrs Smith, the world's sexiest boutique hotel collection, and the global PR for Alila Hotels & Resorts. They've just opened some stunning new properties in Bali and the Maldives. I am planning some visits currently. Both my wife and I love Japan. We love eating and shopping there. In fact, we just came back from Kyoto recently. I would urge any and every serious foodie to make not one but several trips to explore this amazing and very unique country.

Say we looking for fine dining experience in Singapore, what would be your three restaurants recommendations?

In order, I would recommend Jaan par Andre, Iggy's, and My Humble House. But let me specify, I would only recommend the last option if you book ahead, book the private chef's table and get Group Executive Chef Sam Leong to whip up a Modern Chinese meal for you. Jaan par Andre is helmed by Andre Chiang, hands-down the best French chef working in Singapore today. And Iggy's is an amazing culinary experience; it is contemporary fusion at its best.

What have been your three most memorable meals ever?

There are just so many. It's really hard to choose. But if pressed, I'd say a simple burger and beer meal at Corner Bistro in NYC with my wife a few years ago; dinner at El Bulli in 2008; and dinner at Alain Ducasse in Paris during my honeymoon, many, many years back. Each, of course, is memorable for very different reasons. With Corner Bistro, especially, it was about sharing a place that I had loved in my youth with the love of my life. Yes, the burgers are great, but it was about finally taking my wife to a place I had raved to her about for years.

What is your favorite food blog, cookbook, food-related TV show and food magazine?

That's really difficult. I think I am going to do the wimpy politically correct thing and not name a specific blog nor cookbook. For TV shows, I am hopelessly addicted to Top Chef. And for magazines, while S is a huge Donna Hay fan, I prefer Gourmet Traveller and Vogue Entertaining and Travel, both also Aussie mags.

What three tips can you give to would be food bloggers?

Decide why you are starting your blog. Are you trying to land a book deal or a movie deal? Are you trying to make money from the blog? Or is it really just something fun for friends to read? The answer to these questions will determine what kind of blog you do, the tone you take, and what you write about.

Posting negative restaurant reviews if you are an amateur (food writer) is the quickest way to earn disdain and lose respect from industry professionals. Sure, it's fun to write negative reviews. But not everyone is AA Gill. When most people write bad reviews, they also read rather poorly. Just don't. My parents always said if you nothing nice to say, say nothing. I think that's damn good advice.

Invest in a nice camera and learn to use it. Rule 3(a) would be to exercise manners when taking photos in someone's restaurant. Always ask the manager if you are allowed to shoot your food. And never act like a spoiled child if they say no.

What junk food do you love?

Spam and ice cream come to mind. But never together of course.

Is there a food you just can't enjoy?

My wife and my dogs love durian. You'd have to hog-tie me and clamp my mouth open before getting any of it past my lips. I really can't stand the stuff.

Just between you, what are the future plans for Aun Koh and Chubby Hubby?

Well, my wife and I are really happy with the popularity of the blog. It constantly amazes us how many readers there are. Right now, we're focusing on building up our companies. Ate Consulting is really growing very quickly and we need to ensure we continue to service our clients properly while also identifying new talent to bring into our little corporate family.
LABELS: Aun Koh, Chubby Hubby, On The Table