By Anonymous Paul on 8 September, 2009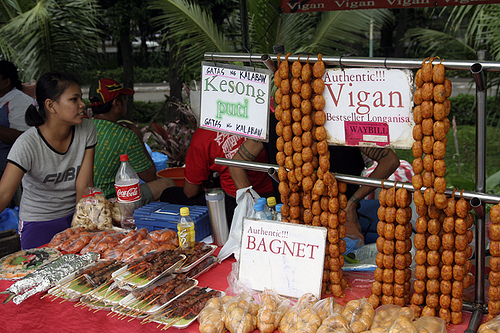 Northern Delights from the Sidcor Market

I love markets.
I love seeing, touching and smelling fresh produce and thinking up different ways to consume them. I love interacting with proud vendors, purveyors, farmers and producers of these products and the bits of info they throw in every conversation. Sidcor Market is Manila's fine example of a combination of wet and dry markets, primarily showcasing cooked and uncooked food products, some artisanal, from all over the country. The range of items for sale has grown along with the market's size over the years. (It's relatively large, considering it started out with just several stalls but still very much manageable). It now includes plants and herbs, clothes, DVDs and even antiques. However, the main attraction has always been—and always will be—the food.
This is not the place to go to if you don't intend on spending more than usual on food. And while it isn't the Aw Tor Kor market, it is definitely still worth waking up early for.
To take a look around the Sidcor Market, click here. Once viewing the slide show, click on the photographs to get more information.
Franco's Note: And if you want to view more of our photo essays, please click here.

LABELS: Anonymous Paul, Behind the Kitchen Doors, food market, sidcor