By franco on 31 August, 2009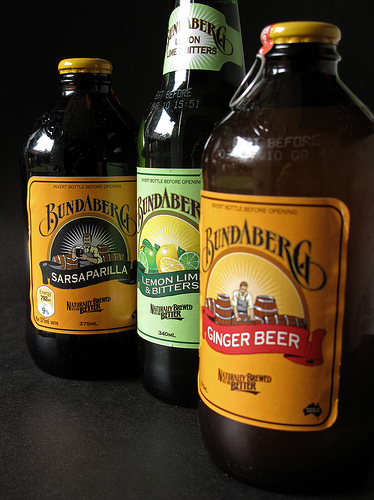 from left to right:
Sarsaparilla, Lemon Lime Bitters, Ginger Beer
I need my Ginger Beer.
I don't get to meander the byways of my local supermarket as much as I used to. Ever since I became old enough to buy my own groceries, I have to adopt the strict discipline of the list–the written breakdown of food requirements prepared by my all-around, ever-reliable household helper, Bb. I am an impulse food shopper. If left to my own devices I would probably buy (sometimes useless and usually expensive) food items that would linger in the refrigerator (or pantry) and slowly rot away. Still I do occasionally savor in the world's delightful indulgences…
While heading toward the cashier aisles, some odd-shaped, amber-colored bottles caught my eye. Stacked on a black nondescript shelf, these bottles of what I thought were just another expensive imported brand of beer turned out to be a revelation.
Meet Bundaberg Brewed Drinks. Produced and bottled by a 40+ year old, family-owned Australian company, every drink is made with naturally and locally grown ingredients. Having been raised on a somewhat consistent flow of Coca Cola and Royal Tru-Orange, trying these bottled drinks was like having your first bite of a beautifully marbled wagyu steak or biting into the skin of Peking Duck gently flavored with a tangy hoisin sauce or taking your first lick of Ben and Jerry's Chocolate Chip Cookie Dough Ice Cream. It was just that good.
What makes these drinks so unique are the new and wonderful tastes that literally and figuratively tingle in your mouth: the spicy sweet of the Ginger Beer, the caramel earthiness of the Sarsaparilla and citrus tanginess and unusual bitter lingering in the back of the Lemon Lime Bitters. It is these intriguing flavors that keep me coming back for more.
I'm sorry, my dear reader. I will confess that as much as I love to share things with you, I'm not going to reveal where you can get the little bottles of joy. It doesn't look like my local supermarket is going to bring in more Bundaberg Brewed Drinks. Maybe it's because these drinks are much too expensive. Or maybe it's because their flavors are too foreign for the local palate. Whatever the reason, I'm still hoping that some forward-thinking distributor will start importing these effervescent bottles of sparkling flavors. Believe me, they are delicious to the very last drop.

To learn more about Bundaberg Brewed Drinks, click here.
An Update: I just learned from a lovely product merchandiser that Landmark Supermarket (Bundaberg Brewed Drinks are available at both Landmark Makati and Trinoma) have a small stockpile of these Australian beverages in their warehouses and will be importing more since apparently there is a small, yet loyal following. Hurrah!!!
LABELS: Bundaburg, Ginger Beer, Lemon Lime Bitters, Sarsaparilla, Table Suggestions