By Anonymous Paul on 13 August, 2009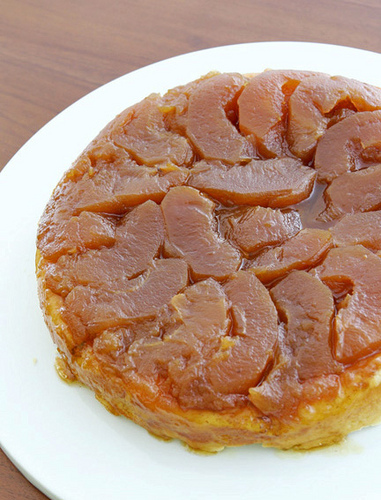 The End Result: My Tart Tatin
I can't say I'm much of a baker partly because I was never really into sweets; also partly because I'm not too into precision with my cooking either. However, if there were something I could probably pull off baking it would be pie. I love pies. I learned how to bake them in my early teens, getting tired waiting for my mom's next batch of apple or banana pies. Which also explained my then 36 inch waistline.

It's been years since I last made pie though, so I figured I'd try making a
Tart Tatin
one Sunday afternoon. Yeah it's not exactly pie but it's close. And despite the fancy sounding French name, it's actually quite a rustic dessert, simple and forgiving to make.
from top left, clockwise:


Beautiful Granny Smiths, Making the Butter Dough,

Heating Up the Butter, Caramelizing the Apples
About a stick of butter is mixed into a mixture of flour, powdered sugar and salt; with an egg mixed in at the end to bind everything together. The result is this rich, pale yellow dough. A little dense and oozing with butter.
Next, I dump another stick of butter and lots of sugar into a pan over medium heat, constantly watching over so as not to burn.
I peel, core and quarter some neon green Granny Smith apples and arrange it pinwheel style in the pan over the now golden colored caramel. Turn the apples over after a few minutes and then cover with the rolled out pastry. I tuck in some extra dough on the sides of the pan because, honestly, who doesn't love crust? Stick the whole pan in the oven for about 25 minutes and that's that.
After resting for 15 minutes I take a plate over the pan and then quickly invert. The key to this step is not to hesitate unless you want the tart all over yourself or all over the floor. The result was a relative success. The glistening caramel macerated apples embedded quite nicely in the crumbly shortbread-like crust. Not overly sweet, thanks to the Granny Smith's acidity but definitely decadent with all the butter. Fantastic served warm with maybe a coffee or tea.
Given that I used a very basic recipe, I thought of several tweaks for the next versions already; using different apples or flambéing some calvados in the caramel, for example. But for the moment, I think I'm Tart Tatin-ed out…
LABELS: Anonymous Paul, Apples, Dessert, Table Recipes, Tart Tatin