By franco on 22 August, 2009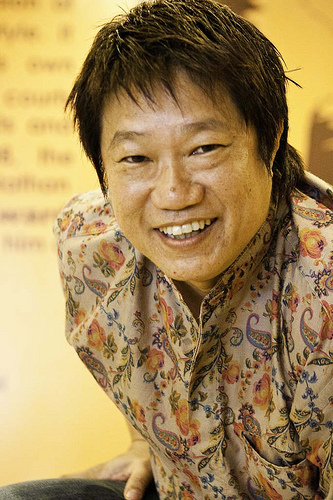 The Makan Guru: KF Seetoh
You either love him or hate him.
But once you have met KF Seetoh, you can't walk away without having an opinion. The man who created the venerated Singapore's hawker food bible, Makansutra has been both praised and vilified almost in the same breath. But one thing is undeniable, his unbridled love for food and histories and cultures that surround the making of each delectable dish.
I am a fan. So when Spot.ph asked me to interview KF Seetoh, I was more than delighted. Currently, he shuttles between Singapore and Manila to manage his latest business venture, the Makansutra Asian Food Village. Located on the second floor of the Manila Ocean Park, this interesting dining concept is a recreation of hawker styled eating by the Manila Bay.
He was easily the best and worst interview I have ever done. The worst because of all the stories he had to tell. The best because of all the stories he had to tell. Sadly, for the Spot piece, I had a word limit. Here are some quotable quotes that didn't make into the interview:
On What He Cooks at Home

Simplest, peasant comfort food. Plain rice porridge, pickled vegetables with fu yi, a fermented tofu paste. This is something I got from my parents, especially from my father who is from Guangzhou. I go for light things at home. But two weekends a month, we go ballistic in the kitchen at home. Cooking everything—all the Perankan dishes I cannot pronounce.

On his Role as Singapore's Food Ambassador

Eat, talk, smile a lot and speak to people like you. I'm a storyteller. You call me an ambassador…whatever. I call myself a Makan Guru…whatever. What do I do? Tout the joy of eating, celebrate Asian food culture and tell stories. I like being a food anthropologist. Food itself is a planet. There is work. There is business. There is social. There is professional. Everything rolled up into one. So I can dabble in all these aspects of food culture.

On his Friend, Chef Anthony Bourdain

Tony [Bourdain], if you are reading this I have to tell you…I agree with you. You are not a great cook. But I like you as a damn good friend because you are like me. You are real. You will squat in the streets with me, drinking a Teh Tarik and ogle. I really respect you.

On Keeping the Weight Off

Dress well. Make sure that my clothes hang in front of my stomach. Wear jeans with certain cut. I used to eat anything. Now, I am very systematic with the way I pig out. I will pig out on things I haven't eaten. I won't revisit my favorites—very painful sometimes. I go to places that are off my radar, to widen my net. It can be quite fun. I walk, cycle and do basic military-style fitness routines. I try to keep up but I'm struggling.

On Pinoy Food

I think there is a lot I have not tried. I've been eating Filipino crappy food, so I can't sink into it—until I had a meal at Abe. Very nice. Some of my chefs dragged me to some street-corner-back-alley restaurant that I love. You squat down on some rickety chair that's rotting. They have all kinds of local dishes and they have best Sinigang. I don't know where it is. One of my chefs made me the one of best Beef Kalderetas I have ever had—sensational dish. I think the Filipino food story has not been properly told. You guys are too quiet. Hello, you shouldn't keep it to yourself.
To read my KF Seetoh interview on Spot.ph. please click here. Much thanks to Michael Wisniewski for the photo.
Makansutra Asian Food Village
2nd Floor
Manila Ocean Park
Luneta, Manila

LABELS: KF Seetoh, Makansutra, Table Conversation