By Mariko on 10 August, 2009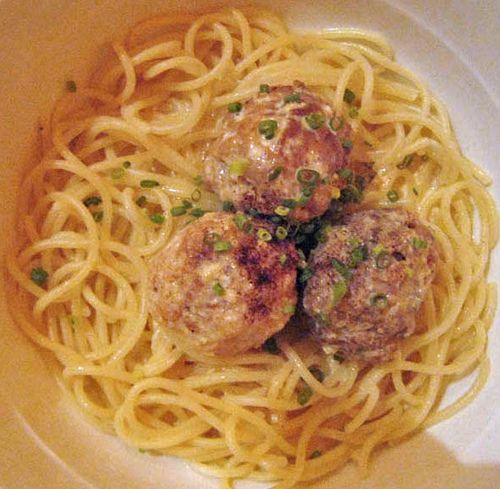 My only photo of my fave Cafe Bola dish. RIP, sour cream paprika sauce!
It annoys me no end that
Cafe Bola
phased out my absolute favorite sauce:
Sour Cream Paprika
. I used to order their
Carambola Pasta
(spaghetti noodles with three kinds of meatballs—seafood, chicken, and beef) every single time I was at their restaurant.
Months ago, I got a seat at Cafe Bola, and scanned the menu (which was more out of habit than necessity—I knew exactly what I wanted). I panicked when I couldn't find my sauce listed anywhere. When I asked about it, I was told that they no longer served this sauce, and were going for a more Filipino menu. I was terribly, terribly disappointed, and spent the rest of my day under a cloud, heartbroken that I was never again going to get a taste of this simple yet utterly divine dish.
I would endeavor to recreate this sauce at home, but I am no superstar in the kitchen (or just haven't had the time to attempt it). I wouldn't know where to begin. Help! The craving is unbearable.
LABELS: Cafe Bola, Sour Cream Paprika, Table Conversation