By franco on 2 August, 2009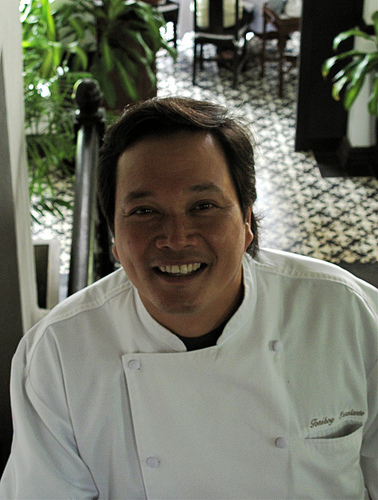 When it comes to his cuisine,
Chef Tonyboy Escalante
considers himself a "safe" chef. However, one could make the case that his greatest gamble has also become his most spectacular success. At the time, many would have considered opening a fine dining restaurant in a secluded
barangay
in Cavite ludicrous. But seven years later,
Antonio's
is now regarded one of the best restaurants in Asia. Early next year, this former flight steward is considering another career shift—from awarding-winning chef and restaurateur to boutique hotel owner.
Who in your life has influenced your cooking the most?

No one. I love cooking. But I think the more important thing is that I love to entertain. If you are great cook but hate to entertain, I don't think it will work. [Cooking and entertaining] must go hand-in-hand. What is my greatest influence in my style of cooking? My travels and my personality.



Which book has had the biggest impact?

The French Laundry Cookbook. But I don't cook the same [dishes]. I love the book and the chef, Thomas Keller. I've been to his restaurant in Napa Valley. I love his restaurant and what they do there.

What was your first job in the food/service business?

I was a flight steward. I quit [in my third year of] dentistry then I became a steward [with Philippine Airlines] just to prove to my dad that I would do something.



How and when did you decide to open Antonio's?

Before I left Australia [for culinary school], I looked for property [in Tagaytay] already. I really wanted a restaurant outside of Manila. I hate competition. I only want to compete with myself. Sonya Garcia [of Sonya's Garden] is good friend of mine. The first time I went her place, I told her that I wanted to live a life like hers.

After seven years, there are still a lot of things to do here [in Antonio's]. Maybe because of my artistic nature, I cannot stop developing and building little by little.



What is your favorite item on the menu of Antonio's?

My steak. I love the way I do my steak. And my fresh salad. Before [opening] my restaurant and even before I left of Australia [for culinary school], I was working on my gardening and delivering [produce]. And through the years, [my gardening] has developed by getting ideas from other farmers and sharing ideas also.



Which restaurant meal (foreign or local) do you remember the most?

Balthazar in New York. It was memorable because it is the way I cook. The seafood in Tel Aviv [the capital of Israel]. I can't remember the name of the restaurant but food was good. I was surprised. Even the nightlife in Tela Aviv was great. We went into a club at 11pm and left at 3pm the next day.

Besides your own place, what's your favorite restaurant in Manila?

This is really hard. I hate this question. Can I pass on this? *

What junk food do you love?

Chippy or Wow! Mani. I can eat jars and jars of peanuts.

Is there a food you just can't seem to enjoy?

I can eat anything. I can even eat the head of the goat. [After some consideration] Ok, maybe not snake, crocodile, bayawak [monitor lizard] and dog meat. I don't like exotic meats.

Just between us, what are your future plans?

To open a resort. After seven years of Antonio's, my people are so good that they can teach my newer people. I now have more time for myself. So I decide to open a boutique resort with architect, Teng Bustos. I think this is the right time to do it. I'm really excited about this [project].

*Chef Escalante did answer, off the record. Email me if you are interested to know what he said.

Antonio's

Barangay Neogan

Tagaytay City, Cavite

Telephone: (046) 413 0975 or (046) 413 1054

Celphone: (0917) 899 2866

Email: antoniosfarm@yahoo.com

LABELS: Antonio's, On The Table, Tonyboy Escalante