By franco on 15 August, 2009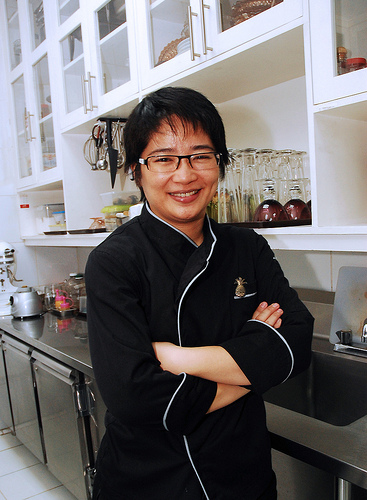 Chef Giney Villar of Adarna Food and Culture
Don't mind the hair, she's a working chef.
Being the head chef and co-owner of Adarna Food and Culture, Chef Giney Villar is always hard at work. Guided by a passion not only for food but also a deep sense of pride for all things Filipino, she can be seen cooking at the stations of her kitchen at practically every service of every day.
In a time when Filipino restaurants try to twist our cuisine by introducing new ingredients, foreign cooking techniques and different plating styles, Adarna has made the conscious choice to move the other way—exploring the rich and often forgotten recipes and techniques of the traditional Pinoy kitchen.
This former NGO book developer and writer has a mission. Besides serving the most delectable Pinoy dishes, Chef Giney hopes not only promote the food but also the vibrant culture behind the food.
To have a look behind the Kitchen Doors of Adarna Food and Culture and at the flavorful food of Chef Giney, click here. Once viewing the slide show, click on the photographs to get more information.
Franco's Note: And if you want to view more of our photo essays. Please click here.
Thank you to Erik Lacson for the lovely photos. Many thanks to Chef Giney Villar and the staff of Adarna Food and Culture.
Adarna Food and Culture
119 Kalayaan Avenue
Diliman, Quezon City
Metro Manila
Telephone: (02) 926 8712
LABELS: Adarna Food and Culture, Behind the Kitchen Doors, Ginney Villar