By Anonymous Paul on 19 August, 2009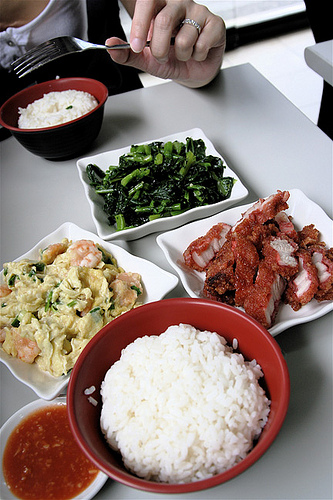 When the hankering for Hokkien food arises,
Feng Wei Wee
is usually the go-to place for some homestyle satisfaction. Unfortunately, I do not have a Hokkien mother to cook this kind of food for me. It's a quaint little cafeteria-style restaurant with an efficient service staff. You order food by pointing to the overflowing stainless steel food warmers as with any other canteen. The main difference from any other turo-turo is the evident quality in the way the food is prepared. The meats are all looking plump and succulent. The vegetables are all gloriously fresh. The stews are all properly slow simmered. I can feel the Hokkien love. No chopsuey or viands swimming in oil here.
The past several times I've been to Feng Wei Wee, the Taiwanese owners were always around checking on customers' orders and welcoming folks. The menu on the wall lists a lot of dishes but states that if you have any special requests, (I suppose from those homesick for Hokkien food) all one had to do was ask. And never mind the Chinese string orchestra version of Guantanamera playing in the background, (which I found a bit bizarre but trippy), I was here for the food.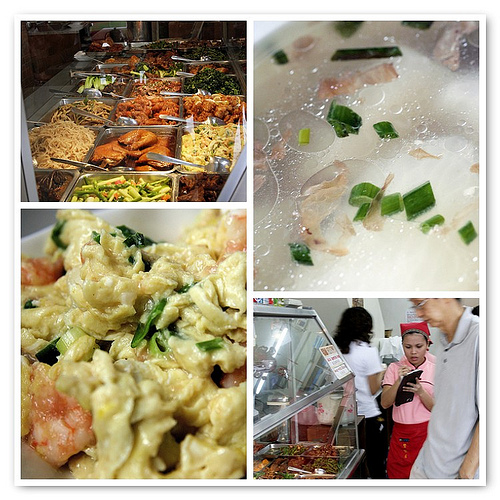 We had placed orders for the Scrambled Eggs with Shrimp, the Stir-fried Kailan, some Ang Sho Ba (breaded pork belly) and two bowls of steamed white rice. Sometimes the simplest food is the best food.
The eggs were perfectly cooked. Soft and cloud-like, just past runny. The shrimp were sweet and popped when you bit into it. The dish wasn't overly seasoned and the nuance of the green onions and sesame seed oil was just perfect. It's so easy to ruin something delicate like this just by leaving even a few seconds on the fire.
The Ang Sho Ba was a revelation in itself. Beneath that spiced, crunchy red crust was some tender meat. You can make out in the picture the moist fat-meat layers. 6 of them! You tasted more of the fresh, tender vegetable with the kailan and none of the grease. Hot bowls of rice in hand, this meal really hit the spot.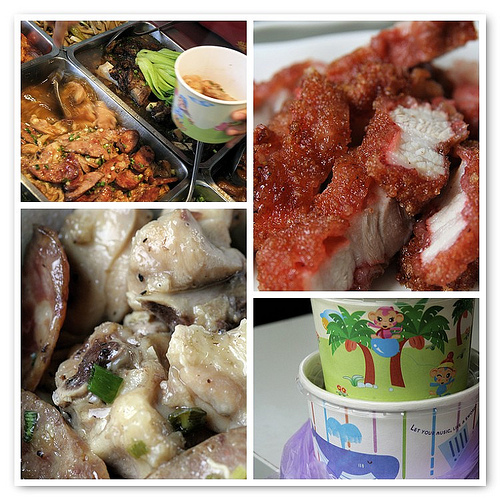 Full from lunch but still wanting to taste more we ordered two dishes as take-away for dinner (check out the cool packaging). One of them being the steamed chicken with sausage (a favorite) and some beef and radish stew – both hearty and perfect for that rainy Sunday supper.
Feng Wei Wee
82 Banawe Avenue cor. Samat Street,
Quezon City, Metro Manila
Telephone: (02) 741 3112
Unit 2, Madison Square
229 Wilson Street
Greenhills, San Juan
Metro Manila
Telephone: (02) 412 5435
LABELS: Anonymous Paul, Banawe Bound, Feng Wei Wee