By franco on 4 July, 2009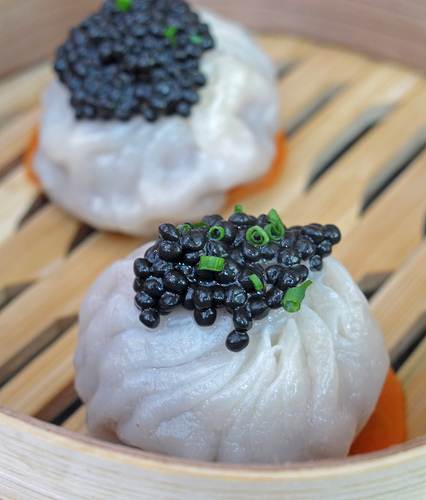 Ox Tail Xiao Lung Bao
I'm in Hong Kong and I'm feeling a bit daring.
With his long, jet black hair, tattooed arms and his cutaway chef's jacket, one could easily mistake Chef Alvin Leung for a retired rock star rather than what he is known for today, the celebrated head chef and owner of Bo Innovation.
After enthralling dinner guests at his private home, Chef Leung had an inspiration and decided to open a private kitchen. Private kitchens are a long-standing trend in China in which amateur cooks open their kitchens and homes to paying guests. This way, these would-be restaurateurs avoid not only the pitfalls of astronomical rental prices but also expensive government fees. In 2003, Bo Innoseki was born. Five years on and both Chef Leung and his idea for a private kitchen have grown and evolved.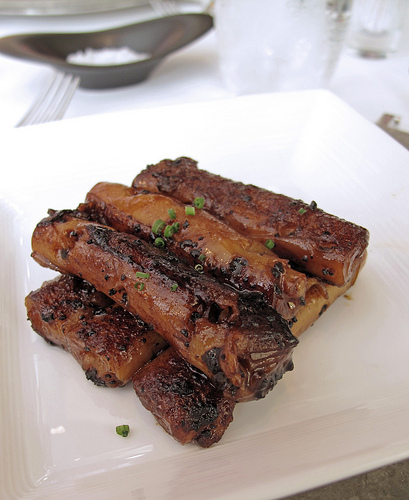 Black Truffle Cheung Fun
Once, Bo Innoseki. Now, Bo Innovation. The once private is now a sleekly designed, 58 seater restaurant in Hong Kong's Wai Chai district. And after only five years, Chef Leung's idea was awarded two stars by the inaugural edition of the Hong Kong/Macau Michelin Guide–one of only seven restaurants in the guide who can claim such an honor. Here is an interesting note. In the history of the Michelin Guide, there have only been two restaurants helmed by (mostly) self-taught chefs that have won stars: one is Chef Leung and the other is no less than
Chef Heston Blumenthal
of the revered
Fat Duck
. An amazing achievement by Chef Leung, an amateur cook whose day job was acoustics engineering.
The lunch begins with a choice of dim sum dishes, a luxurious twist on two tea house favorites. Normally served with a stuffing of pork, Bo Innovation takes a different approach to the 'soupy' dumpling. Their Xiao Lung Bao is stuffed with a filling of shredded oxtail, taking this common dish to a completely new direction. If that was not enough, each dumpling is topped with a dollop of extravagant Arvuga caviar. The hawker stand staple Cheung Fun is given its own improvement with the addition of black truffles. An appealing yet far too subtle flavor.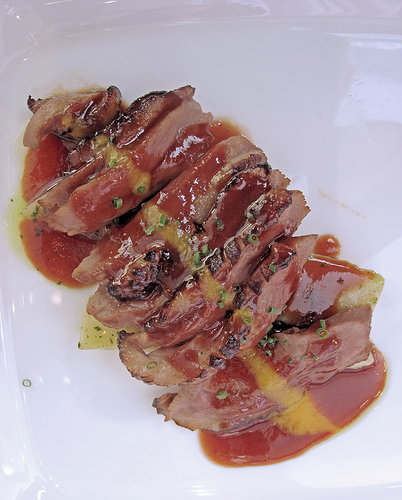 Roasted Duck Char Siu
Next is the main course. Char siu is a dish of barbeque pork. But at Bo Innovation, this common roast is made with succulent duck. Served on a bed of thinly sliced bamboo shoots coated in pesto sauce, theses cuts of
Roasted Duck Char Siu
are covered in sweet barbeque sauce and topped with a tangy coulis of pureed mandarin.
To close this delicious meal are two desserts du jour. The first dessert is a little cornet topped with a scoop of Kumquat and Butterscotch Ice Cream. Light and refreshing, one wishes there was more. And finally to cap the meal, an interesting Black Sesame Drink infused with soda, served in shot glass and sipped with a little, black straw. Savor it slowly because it disappears quickly.
Bo Innovations has been touted the El Bulli of Asia. While Chef Leung has created a sophisticated dining experience at Bo Innovation, I honestly can't agree or disagree with that claim. However, what I do understand from this little taste is that Chef Leung has taken his unbridled passion for Chinese cuisine and turned it on it head, creating a menu is not only intriguing but delightful delicious as well. I have only scratched the surface of what is possible at Bo Innovation. A more extensive return meal is a not option, it is a necessity.

Bo Innovations
Shop 13
2nd Floor J Residence,
60 Johnston Road, Wan Chai
Hong Kong
(Private life entrance on 18 Ship Street)
Telephone: (852) 285 0837
Email: dine@boinnovation.com
Website: www.boinnovation.com
LABELS: Bo Innovations, Hong Kong, Restaurants, The Travelling Table