By franco on 19 July, 2009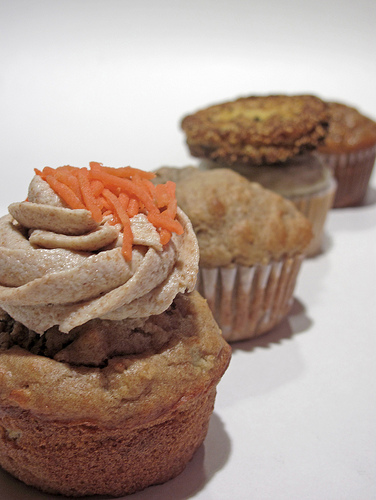 Puppy's Delights
Our bully has turned one.
While Table for Three, Please has always prided itself in presenting the best from the gastronomical world, for this post, we are going to the dogs—in a scrumptious (for canines, at least) way. Last week, our delightful French Bulldog, Bruce, finally turned one. So A. and I decided that we would try to make the day special for him. Usually, he is on a very regimented diet. Bulldogs are not the most active of animals and can easily become obese. But for his birthday, we decide to give a treat, his very own doggie-friendly cupcake or, as we like calling it, a Pupcake.
Enter Sonja Ocampo of Cupcakes by Sonja. Normally, Sonja's customers are human. But after a little bit of convincing, she agrees to take on the challenge. Bruce's birthday arrives and I am on my way to Sonja's cupcake mecca. For the record, I'm expecting one or maybe two pupcakes but instead I am surprised by boxes filled with four different kinds of pupcakes: Party Pupcake, Banana Pupcake with Mad Sock, Carrot Pupcake and Pupcake with Cream Cheese Frosting.
I obviously cannot describe to you how they taste. But if I were to go by how Bruce gobbles them down, I would say that this little experiment was a 'doggielicious' success. On his birthday, Bruce was one very lucky dog.

Much thanks to Sonja for making Bruce the happiest birthday bulldog.
In the interest of full disclosure, Sonja refused payment. Because this was a test batch, she could not insure complete doggie satisfaction. This post is absolutely unsolicited.
Cupcakes by Sonja
1C03 Serendra Piazza
Bonifacio Global City
Taguig City
Telephone: (02) 8560308
Email:cupcakesbysonja@gmail.com
LABELS: Cupcakes by Sonja, Pupcakes, Table Suggestions