By franco on 28 July, 2009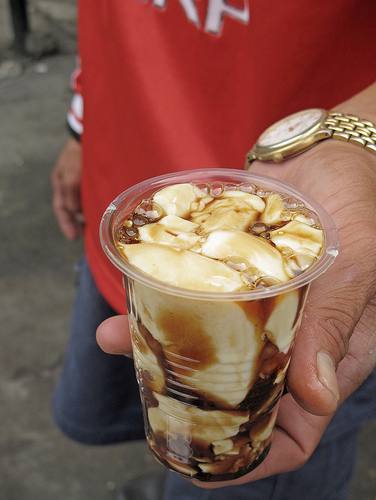 The early morning snack
There really is nothing like
t

aho
.
There are many streetside snacks that I love: from icy tsokolate and mango 'dirty' ice cream to double-dipped, sweet and spicy fishballs. However, nothing warms this food lover's heart and conjures sweet syrupy childhood memories more vividly than a warm cup of taho. I'm not talking about the pasteurized and antiseptic variety served in some of the finer restaurants in Manila. What we are discussing is the on-the-street, sucking-on-jeepney-exhaust and served-in-a-dubious-plastic-cup-from-a-huge-metal-can version of this much loved streetside treat.
While this snack seems to be a deceptively simple mix of tofu, syrup and sago, the effort that goes into delivering this old time favorite is literally back-breaking work.
Meet Ron, my taho vendor du jour. When I met up with Ron that morning, he enthusiastically explains that he has been plying his daily route in and around a local university even before the crack of dawn. Ron claims to enjoy this difficult profession since he inherited it from his father. From purchasing raw ingredients, to cooking and prepping and finally carrying of his pair of heavy stainless steel cans from one customer to the next, Ron says it's still a stable living and besides, he enjoys chatting up customers and watching them savor their cups of taho.
After a short chat, I ask Ron for a cup. First, he flips open the lid of the larger and heavier container. Inside is a glacier of silken tofu floating in a milky pool. With a large flat spoon, he skims away some of excess liquid, gracefully slices away some of the white soft tofu and, with one quick motion, empties it into a waiting cup.

He opens the second, smaller bucket. The container is divided into multiple compartments. One section holds the
sago
or tiny tapioca pearls. Bought at the local market the day before, each pearl is boiled in simmering water, transforming slowly into plump, translucent spheres. Beside the sago is a dark sugary syrup called
arnibal
. While both the sago and tofu are bought from an outside supplier, this sweet dark caramel is what makes each taho unique. Ron's arnibal starts with the melting of
panocha
, a brown palm sugar. Mixed with the right proportion of water, this sugary solid turns into deep amber syrup. What makes his concoction unusual is his addition of sweet langka or jackfruit in the mix–or if langka is not in season, he steeps an aromatic infusion of pandan leaves. With a miniature ladle, he spoons a generous serving of both the sago and the arnibal.
He hands me my taho and I take my first sip. Initially, a rush of sweetness overwhelms my sense of taste. But once the flavor settles, the lovely complexity of this 'drink' comes to the forefront. There is a depth of flavors to the dark caramel syrup: sweet hints of nuttiness and the underlying flavor and aroma of langka in the background. While the tofu and sago don't contribute a whole lot of flavor, they do create an unusual textural sensation. Chunks of silken tofu fill the mouth: warm, soft and almost custard-like. As I begin to swallow, the tofu falls apart and quickly breaks away–leaving behind chewy, little balls of tapioca to playfully bite into.
Licking the remaining syrup from my lips and still wanting more, I ask Ron for another. He smiles and starts filling my cup.
Franco's Note: I interviewed Bob Blumer, host and central 'victim' of Glutton for Punishment. I will admit that prior to this interview, I had only occasionally glanced at his show. But after having done a lot of 'research' and sitting down with the man himself, I have to say–It can be masochistic. It can be crazy. And sometimes it can be just plain deadly. But I would never call it boring. This show is just fun television viewing. Click here to read my interview.
LABELS: Franco, Pinoy Street Treats, Taho