By Mariko on 31 July, 2009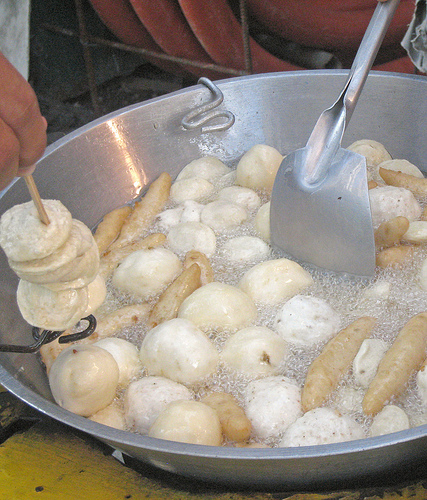 Bubble, bubble, oil and trouble: Fishballs, squid balls, and kikiam in a sea of artery-clogging oil
I remember being thrilled when, years ago, my mom came home from a trip to the supermarket with a bag of frozen fishballs. It meant two things: First, I didn't have to escape from Father Dear's watchful (paranoid) eye whenever I was hankering for these fishy discs; and second, I could have fishballs whenever I wanted—I needn't get in line (and I use the term "line" loosely here) to spear five pesos' worth of fishballs onto a barbecue stick. (For the uninitiated, it's just fifty centavos a pop.) Bonus: No more annoying tusok-tusok jokes from my guy friends!
And so I eagerly waited as the white wonders, floating in all that Baguio oil, slowly turned slightly golden. We scooped them onto plates, covered in paper towels, then allowed them to cool. Then, spearing a couple of pieces with a silver fork, I dipped them in some store-bought sweet and sour sauce, fully expecting to satisfy my fish ball craving.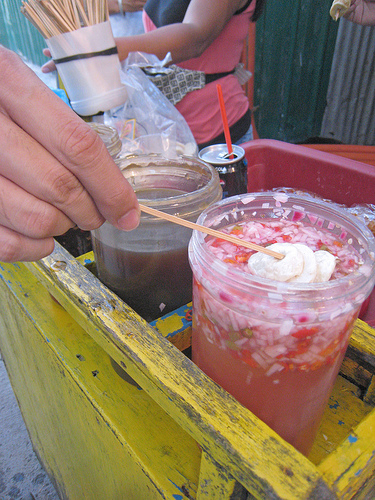 Jars of sweet and/or spicy sauce, and vinegar with onions and chili for dipping
Alas, my hygienic, oil-drained, home-cooked version of fishballs couldn't even come close to the questionable ones being peddled on the streets. It was then that I realized: Overused cooking oil, splintery barbecue sticks, and sweet/spicy sauce in reused bottles—made more flavorful by that glorious faux pas called double dipping—complete the whole fishball experience. And for that, I'll risk getting hepatitis, again and again.
LABELS: Fishballs, Mariko, Pinoy Street Treats