By franco on 17 June, 2009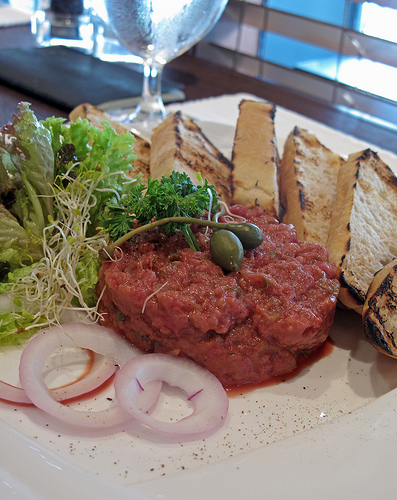 Beef Tartare from I'm Angus Steakhouse
What is the definition of luxury?
The answer can be somewhat fluid, to say the least. Ask 100 people on the street what luxury means and you will probably get 100 different answers. While definitions may vary from latest S Class Mercedes Benz to a pair of Christian Louboutin heels, they all return to the idea of value, what a person values in their life. Given that I write for this blog, it should come as no surprise that my response would have something to do with food.
Let me dispel a notion. I enjoy the juicy goodness of thick, 'black and blue' ribeye or the rich, fatty flavor of pan-seared goose liver like any other person would. But for me, the meaning of luxury has nothing to do with price. It is all about the experience of food.
Take for example, having lunch with a fellow food lover at I'm Angus Steakhouse and not ordering a steak. While Lori had a hefty ax of pork, I had a somewhat unusual order of Beef Tartare (P720). While many would find it repugnant to eat this dish of raw minced beef mixed with the pungent, tart flavors of onions and capers and aggressively seasoned with ground black pepper and Worcestershire sauce, I reveled in tucking into it. Over a hearty conversation about family, friends and of course food, I savored every mouthful. Eating your beef raw was a very primal, textural experience.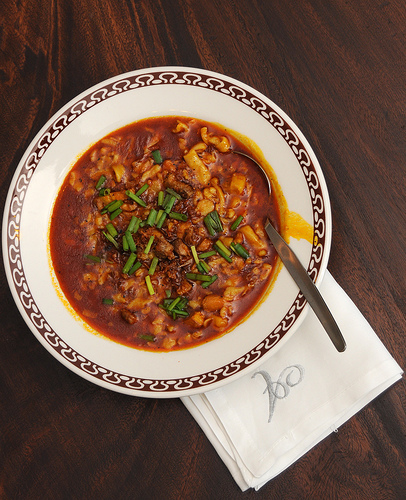 Pancit Musiko from Adarna Food and Culture

I am a noodle fanatic. So as the days get cold and wet, I am always hankering to slurp a hot steaming bowl of noodles. I crave for my cold soba. I love my steaming ramen soup. I adore my pho. But my discovery of an Ilocano noodle dish might eclipse them all. They call it
Pancit Musiko(P150)
. Served at
Adarna Food and Culture
, this dish is traditionally served to marching bands during local fiestas–thus, the name. These noodles are the definition of slow-cooking. It starts with a rich broth–enriched with the flavors from slowly (over a day, I am told) stewed pieces of pork and chicken and colored a deep reddish hue with achuete. Next, stubby custom-made egg noodles are lovingly nurtured into the broth. Cooking the noodles is a process of both give and take. While the noodles imbibe the taste of the soup, its starches help thicken the broth. Why is this dish a luxury? Simple because in this world of quick and immediate gratification, very few cook food like this anymore.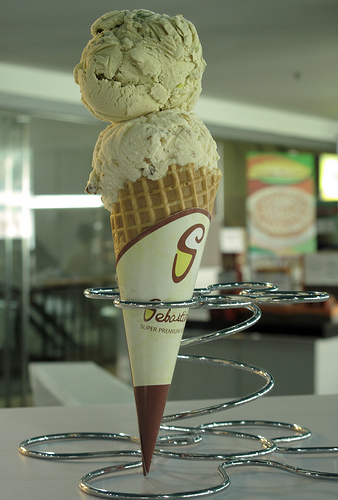 Pistachio on Butter Pecan Ice Cream from Sebastian's
How about licking up a scoop or two of my favorite ice cream,
Sebastian's?
I'm a nutty kind of guy. So having a scoop of
Pistachio
on top of
Butter Pecan
is not a difficult decision
(P150 for a double scoop)
. The two flavors are distinct–a pale green, all-natural scoop decadently peppered with toasty pistachios and a smooth, buttery serving chockfull of crunchy pecans. And yet they are similar in their uncompromising creaminess and their rich depth of flavors and textures. Did I fail to mention the size of these scoops? They are so hefty that I could hear my waffle cone crack under the strain of their weight. Consuming the double scoop quickly was luxurious necessity that I would have no problems fulfilling.
So you can keep your It bags and fancy, Swiss watches, I'm off to savor all the wonderful tastes and textures the food world has to offer. Care to come along?
Thanks to Erik Lacson for the amazing Pancit Musiko photo.
I'm Angus Steakhouse
7431 Yakal Street
San Antonio Village, Makati City,
Metro Manila
Tel: (02) 892 6206

Adarna Food and Culture
119 Kalayaan Avenue,
Diliman, Quezon City.
Tel: (02) 926 8712
Sebastian's Ice Cream Studio
Food Choices
Glorietta 4
Makati City, Metro Manila
LABELS: Adarna Food and Culture, I'm Angus Steakhouse, Restaurants, Sebastian's Ice Cream Studio, The Luxe