By franco on 15 June, 2009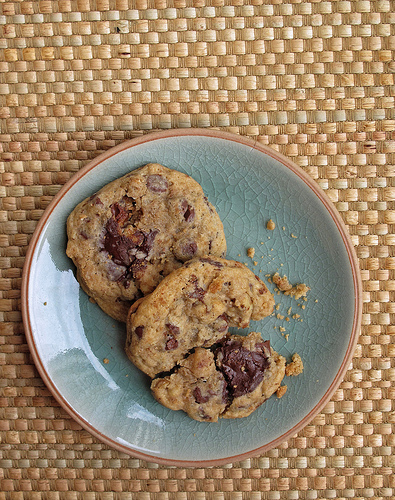 Heaven in a Cookie
I know. I'm late to the party.
But this cookie is so sinfully delicious, that is worth the much delay post. The Belgian Chocolate Chip Cookie by Homemade by Roshan (P900 for 16 cookies) is not just the best chocolate chip cookie. In my humble opinion, it is the best cookie ever. I don't know how she does it. But Roshan Samtani, the purveyor of Homemade by Roshan has stuffed these not-so-little pieces of cookie heaven with so much Belgian chocolate chips and chucks of walnuts that it almost excusable to think that you were biting into nutty chocolate bar. And as for the cookie, it is so chewy (the way I like my cookies) that it almost melts in your mouth with every bite.
Enough said. Please excuse me while I finish off the rest of the box.
Homemade by Roshan

Telephone: (02) 631 7786

Cellular Phone: (0917) 833 6286

Website: http://homemadebyroshan.com

LABELS: Belgian Chocolate, Chocolate Chip Cookie, Homemade by Roshan