By Guest on 8 June, 2009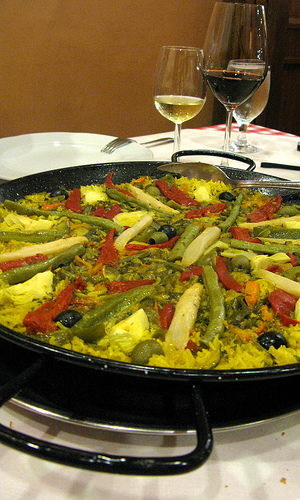 Paella de Verduras by La Tienda
I lived in Barcelona for 20 years before moving back here for good in 1999 and I must say, at first I thought I would miss the food, wine and coffee that I used to have while I was living there. I am happy to admit that I was wrong. There are many good Spanish restaurants in town and what is better is there is also a large variety of Spanish wine locally available to pair your food with. In this post, I feature my three favorite Restaurants with the corresponding favorite dish.
The first one on my list would have to be
La Tienda
. With Chef Javi Lecumberri in the kitchen, this is definitely my favorite place. Javi is from San Sebastian (North of Spain-Food capital of Spain) and has been in the Philippines for more than 10 years. His cooking is simple and straight forward using the best ingredients possible. There are many dishes I love in La Tienda, but if I were to choose one, it would be
Paella de Verduras con Arroz Basmati
(Vegetable Paella with Basmati rice).It's the Chefs own version of Paella using Basmati rice, making it lighter and very fragrant. Perfect with a bottle of Rioja wine. I have never tasted any Paella similar in Spain, specially served with Basmati rice, so this is one of the reasons I love this dish. It is also not so overpowering and loaded like other Paellas, so it serves as a side dish but could also be the main course at the same time.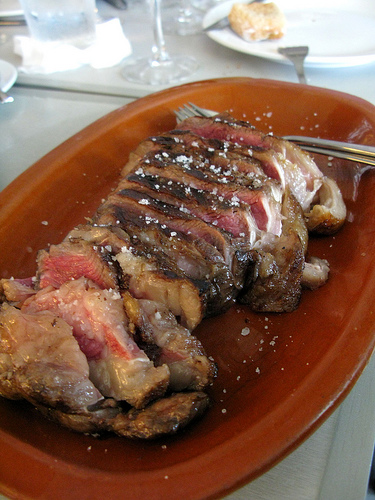 Chuleton by Gaudi
My second favorite place is Gaudi, owned and operated by Xandra Cacho. Her cooking was greatly influenced by her family, who is also from San Sebastian. My favorite dish is the Chuleton (Grilled according to the methods of Villagodio). A huge 1 kilo cut of meat, specially aged, grilled and served on a hot stone plate with rock salt. Typical sidings are potatoes and Piquillo Peppers. The meat is grilled to lock in the juices and immediately sliced and served. Traditionally it is served on hot stone and the steak is cooked according to personal preference (rare, medium or well done) on the table. I particularly enjoy this with a Rioja wine or a red wine from the Priorato region in Catalunya. I have had many Chuletons in Spain (in basque Restaurants as well) and let me tell you, this one is as good if not better than the ones I have tried in Spain.
My third pick is Terry's Selection in Pasong Tamo. Owned and managed by JC de Terry, he is authentic as it can get. Terry's is a perfect place for Tapas and wine. They have a great selection of Deli and wine to suit every ones preferences/taste. I normally like going there on a late afternoon for some Rosado wine (Rosé wine) and some tapas (Cheese, Cold cuts, etc..). One of the dishes I like most is the Chorizo on Piggy Back. It's a home made Chorizo, served a on clay pot, then flame grilled til its cooked. It has the right amount of acidity, paprika and spices to make this a great dish. I also prefer this since there is not too much fat on it, unlike others. This dish is perfect with a little bread and some young Rioja wine or a Rosé like the Homenaje Rosado from Navarra.
Coincidence or not, the 3 dishes I chose are traditional Spanish with a little personal touch or twist from the Chefs…not too traditional but not too modern at the same time. It shows how food evolves constantly and even if it evolves, it can still be delicious.
Franco's Note: Much thanks to Miguel of Food and Wine of the World

La Tienda
43 Polaris Street
Bel-Air 3, Makati City
Metro Manila
Tel: (02) 890 4123

Gaudi
G/F Serendra
Mckinley Parkway
Bonifacio Global City
Taguig City, Metro Manila
Tel: (02) 856 0473

Terry's Selection
Building B, Karivin Plaza
2316 Pasong Tamo Extension
Makati City, Metro Manila
Tel: (02) 844 1816

LABELS: Food And Wine of the World, Gaudi, La Tienda, Manila, Restaurants, Spanish, Table Guest, Terry's Selection