By Stitch on 16 May, 2009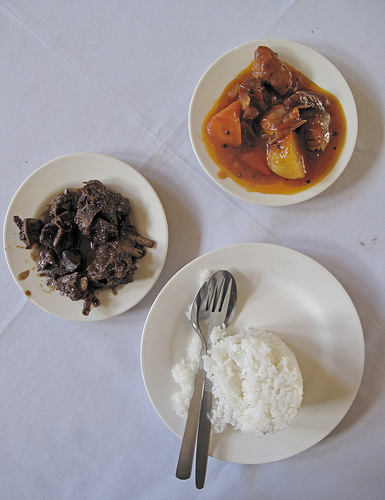 Franco comes up with the oddest requests.
Given my penchant for going out and trying holes in the wall (literally), I was asked if I were willing to write about a P 150.00 meal, with the added twist being that I could not pop over to the nearest McKFbee and get a budget whatever with fries and some fizzy drink. While interesting, it also left out possible places which would have been slam dunks without being fast food cop-outs. (Lola Idang's, for example, is one vastly underrated place for cheap eats, perhaps because you always feels like you're in Lola Idang's living room waiting for your pancit, no matter which branch you go to.) But then again, what can a guy have for P 150.00, chain stores excluded?
Well, one can have goat, it turns out.
With that in mind, and only P 150.00 in my wallet, I went off and dragged Franco to a Kambingan. I needed someone to cover the excess, if there was any. And Franco wanted goat anyway, so a good deal was had.
We ended up along the main road of Camp (not Fort) Bonifacio, in an unpaved area right off the white fences where, nearby, they sold authentic military supplies such as ponchos, uniforms, and the like. The place itself was called Xerjen Cafe and an observant driver can actually see it as one drives along the main road of the Camp. It was a warm afternoon and we both trudged over to the nearby restaurant, which had a little sign in front declared "cooked goat here!" Perfect.
The place was completely empty when we stepped in, Eat Bulaga blaring on the TV of the Karaoke machine. The place was clean, though the lady at the counter seemed surprised to see us step into the place. I immediately asked about the goat, to which they pointed me to five chafing dishes with the typical preparations of goat: kaldereta, kilawing balat, pinapaitan, sinampalukang ulo, and adobong kambing. P 60.00 per viand. Cool!
I got the Kaldereta, the Adobo, and the Pinapaitan. Since it was me and Franco eating, that meant that the bill was divided by 2. We sat down on one of the monoblock sets and waited for our dishes to be brought out as Eat Bulaga filled the air around us with canned laughter and well preserved jokes. The dishes came and, quite expectedly, the servings weren't TGI Fridays proportions. One viand and rice would probably be a bit short, but two and some extra rice would be just fine. In this case, we were in pretty good shape.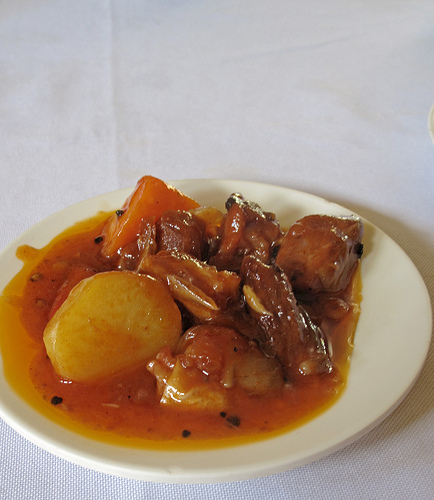 First off, the

kaldereta

. Admittedly, I was not expecting much. Goat in the Philippines is often overcooked and chopped so that there are more bones than meat on the plate, and the same was pretty true here except that I was surprised by how sweet the dish was. It wasn't quite what I was expecting, but, as meals go, it does the job of beating hunger quite well, with the potatoes adding needed weight to the dish.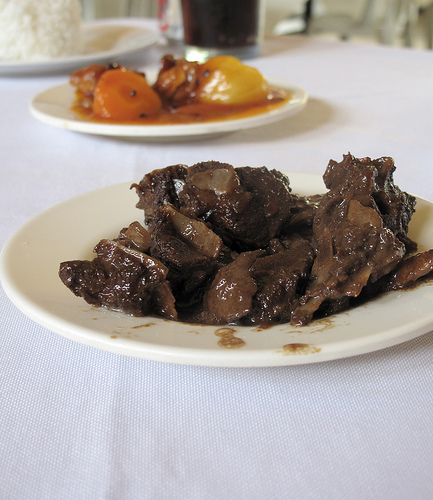 Adobo na Kambing

The next dish fared much better. The

adobo

was very flavorful, though still bony and tough. It's a little too bad that we don't butcher the meat better in most kambingan places as this dish would have been a real treat with a nice, meaty piece. But then, I doubt I could have fit that into the challenge budget. Also, I guess the whole thrill of teasing meat off the various nooks and corners of the pieces is part of the fun. The

adobo

liquid leaned more on the soy than the vinegar, but that actually helped the meat out, making for a dish that would be eaten with heaps of rice, perfect for those on a budget.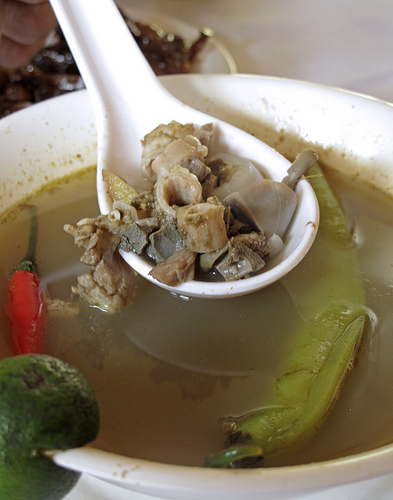 The one we both truly enjoyed, however, was the pinapaitan. Who would've thought we'd handle bile so well? Pinapaitan is a dish of goat innards served in a broth of bile and stock and it was wonderfully complex, especially with the inclusion of some siling labuyo to give it a kick. Both Franco and I were sipping the soup even after the meat was gone. It was not as bitter as its name suggests, but the bitter note was definitely there. Instead, it was a play of salty broth, possibly made from the bones, and bitter bile, combined with the kick of the sili which was just irresistable as we both kept taking on spoon after spoon.
They even let us try the

kilawing balat,

which was the goat skin grilled and then marinated in vinegar, ginger, and sili. It was rather chewy, probably owing to how long its been sitting in the marinade, and was

seriously

hot. We were both sweating as we, rather gingerly, spooned some into our mouths. We could imagine really cold beers going wonderfully with it, however.
We never really got to the head. It was already off budget and seemed a little off the beaten path, especially for lunch. What fascinated us, however, was that those five dishes pretty much used the whole goat, inside and out, head to tail. It's a nice thing to see the philosophy of "use everything" in evidence in places as small as the one we ate in.
Oh yeah, how much was the bill? P 125.00 per person. So, P 150.00 meal? Done. Anything else?
Xerjen Cafe
ATU
Fort Bonifacio, Taguig City
across from the Special Services Unit Headquarters
LABELS: Manila, Restaurants, Stitch, The Frugal Foodie, Xerjen Cafe