By Mariko on 31 May, 2009
Just P150 in my wallet.
It felt a lot like my college days—except that back then, I didn't really have a choice. I had to rely on a weekly allowance, and it wasn't unheard of to survive on this much for three days. (Cafeteria food rocks!)
I figured Manang's in Ateneo was closed for the summer, so I had to think of other non-fast-food places to spend this little budget on. And then I thought of Mien San.
My Gilmore-resident friend, M, counts this as one of his favorite restos, not because of proximity, but because of what he proclaimed "the best dimsum ever." A perfect day for him would be watching a rockin' NBA game on TV, having a great lunch at Mien San, then heading to Feet For Us next door for a P300 one-hour foot massage.
We were 1-for-3 on Saturday. After watching that boring blowout of a game (I'm an Orlando fan, but come on, it wasn't even close), M and I met up at Mien San. We were joined by E, a non-basketball fan who had to sit through our post-game analysis. She was probably thankful she had all that food to keep her occupied, but I'm getting ahead of myself.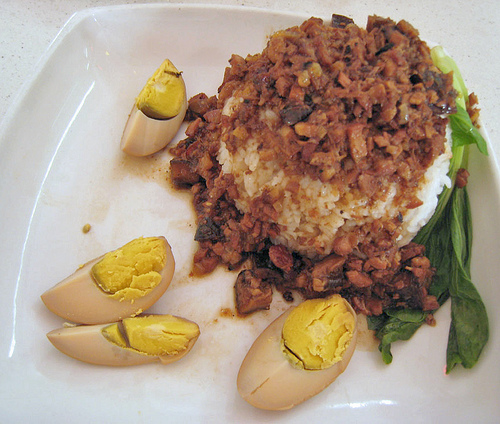 Pork Sauce Rice with Eggs
M highly recommended the shrimp/raddish dumpling which, at P90 for six pieces, was within my price range. But I wanted enough left over for something other than steamed rice, so I instead ordered the pork/kutchay dumplings (P68 for eight pieces). I know you could get dumplings for half that price elsewhere, but I doubt that they would be as well made. The wrapper was soft and moist (not dry and papery, the way it is with some budget dumplings), and it was bursting with the flavors of pork and finely chopped chives. And paired with a hefty serving of the pork sauce rice (P78)—rice topped with chopped-up pork, mushrooms, and a humba-like sauce—I had a very filling meal that was right within my price range.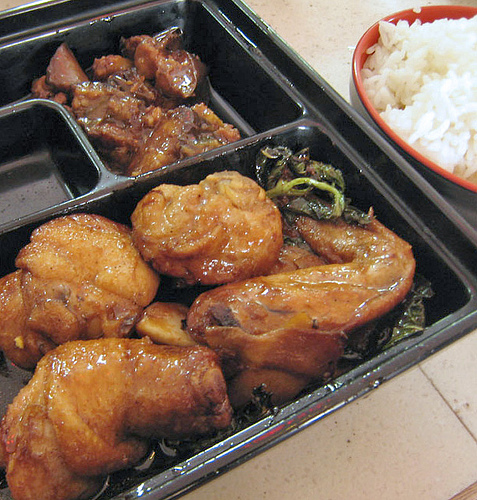 Chicken on the Stew

You could also get some rice toppings for less than P150. E got the chicken stew rice for P148, and it was truly a value-for-money meal: several small pieces of chicken, rice, egg, and sides of eggplants and veggies. I was full enough with my order, but generous M shared his delicious shrimp dumplings (they looked like gyoza—steamed, but the bottoms were fried to a crisp) and seafood chami (P168).
So yeah, I got a great meal for P146. But that foot massage? Sigh. It had to wait.
Mien San Noodle House
36 Villa Ortigas II, Granada St., Quezon City
(From Ortigas, going west, cross Santolan.
It's right after the stoplight—look for the Feet For Us sign.)
Tel. (02) 721-7594
LABELS: Manila, Mariko, Mien San, Restaurants, The Frugal Foodie