By franco on 7 May, 2009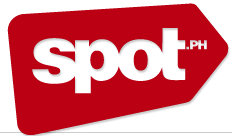 Same Name. Different Spot.
We had our issues with Version 1.0. From time to time, I will admit that original Spot's editors' blog was an interesting read. But the attempt at a community-based, restaurant review site was 'spotty' to say the least.
Apparently, you can teach an old dog new tricks.With a new editorial team, a new direction and a new look, the reincarnation of Spot.ph might be worth a second look. While still in beta, it might be too early to pass judgement on this 'new' site. We suggest you take an exploratory visit. Poke around and tell the folks at Spot what you think.
Will Spot fetch and deliver this time around? Only time (and your page views) will tell.
PS. On an admittedly self-serving note, check out these interviews on Spot with Top Chef's Ilan Hall and Dale Talde and the venerable New York Times food writer, Mark Bittman.
LABELS: Spot.ph, Table Suggestions