By franco on 1 May, 2009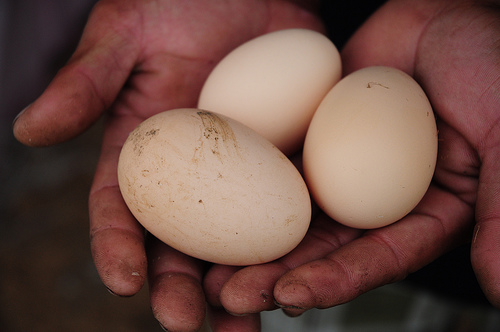 It starts with the eggs…

I love a roasted chicken.
As a person who more than occasionally cooks at home, a roasted chicken is always my go-to dish. Making a chicken with a crisp-to-the-bite skin and flesh that is fall-off-the-bone tender is both simple and quick. It also fills a home with a roasting-garlic-and-lemon aroma that just makes mouths drool with anticipation. For me, it is the perfect, crowd-pleasing dish.
While writing a story for a Cebu Pacific's Smile on restaurants using organic produce, I discovered that besides being a one of best restaurants in the Philippines, Antonio's also grows its own produce and herbs. What was even more fascinating was the fact that Antonio's has progressed beyond the greens and now raises even their own livestock–specifically a lively flock of French Grimaud Freres Chickens. Organically-raised and given free range of the farm, these chickens live healthier, happier lives compared to their mass-produced cousins' gulag-like existence.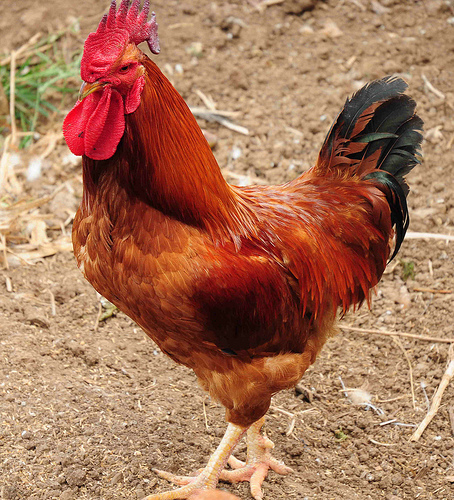 Then a healthy, happy chicken
…
The following interview is with
Mrs. Agnes Escalante
, wife of famed chef,
Tonyboy Escalante
and the manager of Antonio's organic farms:
What made you decide to raise your own flock of organic chickens?

We have a special son who is on a Gluten Free, Casein Free diet (GFCF)–meaning no wheat and dairy products for him. We make sure we feed him only organic produce. Since we had the space, we decided to have the whole family to embrace this diet as well.

What kind of chickens do you raise and what made you decide on this breed?

Grimaud Freres Breed from France. The breed is highly adaptable to our climate and easy to take care of.

Can you take us through the process of cultivating your own flock of organic chickens?

We allow them to range around the farm and make sure they have enough supply of food to forage. In our case, we give them the surplus of our lettuce and herbs from our vegetable farm. This makes our chickens tasty and very fragrant.

What are upsides and downsides of raising your own chickens?

As with any farmer, the downside is how to adapt our chickens to the climate conditions in our area. The upsides are seeing how our chickens are raised, having a ready source of chickens and harvesting table eggs everyday.

How do you serve the chickens at Antonio?

My husband [Chef Tonyboy Escalante] has very strict requirements for the chickens. They have to be by a certain weight and age. All our eggs are sourced from our farm. We serve an Organic Free Range Chicken Leg with Pomery Mustard Sauce and Garlic Mashed Potato, using the chickens grown by us.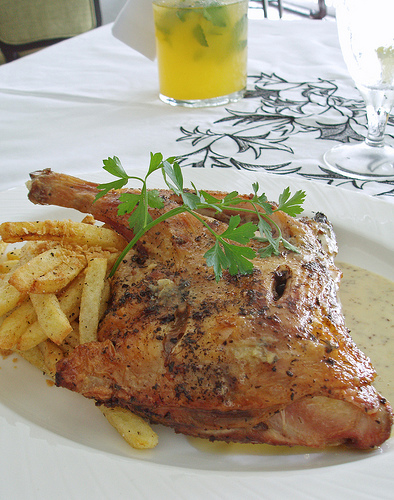 And eventually lunch
.
I'd never claim to be a chicken breeds expert.
But I do know what I like. Some of my snobbier foodie friends may scoff that the idea of ordering chicken at such a fine establishment like Antonio's. But because of the care that has gone into raising these chickens, coupled with the expert cooking techniques of Antonio's chefs, this humble dish of roasted chicken has been elevated to something better, something greater. In fact, after savoring every morsel of this mouth-watering dish, I was briefly considering never making roast chicken at home again. It was just that good.
At the end of the day, the proof is on the plate. Chickens that are fed more organically and provided a more natural way of life make for a more delectable meal.
Much thanks to Mrs. Agnes Escalante and Johna Goma. Special thanks to Erik Lacson for the lovely photos and Maya Calica for sending me on this eye-opening trip.
Antonio's
Barangay Neogan
Tagaytay City, Cavite
Telephone: (046) 413 0975 or (046) 413 1054
Celphone: (0917) 899 2866
Email: antoniosfarm@yahoo.com
LABELS: Antonio's, Chicken, Organic, Table Suggestions