By franco on 12 May, 2009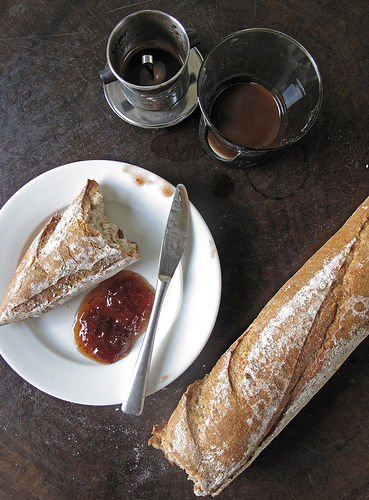 A quick breakfast
Once in a while, you should indulge yourself.
On this special day, I decide to start my morning with a torn piece of a warm, crusty whole-wheat baguette from Lartizan. On my bread, I spread a generous amount of a very berry strawberry jam courtesy of good sisters of Good Shepherd. I wash it down a steaming glass of milky-sweet Vietnamese coffee–a great jumpstart to a delicious day.
Uni for me
Today, I'm having
lunch with a friend
who shares my love for all things Japanese, edible and raw. After savoring slices of
sashimi
in interesting combinations and a delightful serving of
Battera Hako Sushi
, I decide to end the meal with a 'healthy' serving of sea urchin. I had my first taste of
uni
not in fancy Japanese restaurant but on the beaches of Bohol. I have been in love ever since. I'm aware that what I'm eating is essentially the innards of a fresh sea urchin. It's not for everybody. But love it or hate it, the buttery tongues of sweet flesh is a food experience I strongly encourage everyone to try–at least once.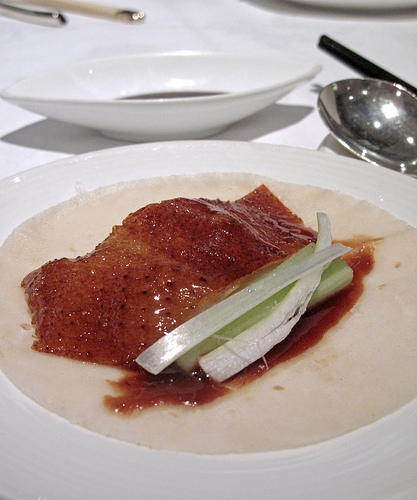 A sublime bite
Evening comes. For dinner at the Shang Place, we invite some friends over to dine with a duck. I will find any reason to eat Peking Duck. So why not today? A dark caramel duck skin wrapped in a thin pancake with a dollop of hoisin and slivers of peppery spring onion. Crisp, fatty, salty, savory and sweet, it is simply a celebration in every bite.
It was a fine, fine day.
Thank you to my lovely wife, A for making this day (and everyday) special.
Lartizan
144 Jupiter Street cor. Orbits Street
Bel-Air 2 Village
Makati City
Telephone: (02) 899 6923
Hatsu Hana-Tei
2nd Floor
Herald Suites
2168 Don Chino Roces Avenue
Makati City 1231
Telephone: (02) 759 6388/ 759 3814
Shang Palace
2nd Level
Makati Shangri-La Hotel
Ayala Avenue at Makati Avenue
Makati City 1200
Philippines
For Reservations: (02) 840 0884
LABELS: One Fine Day, Table Conversation