By franco on 23 May, 2009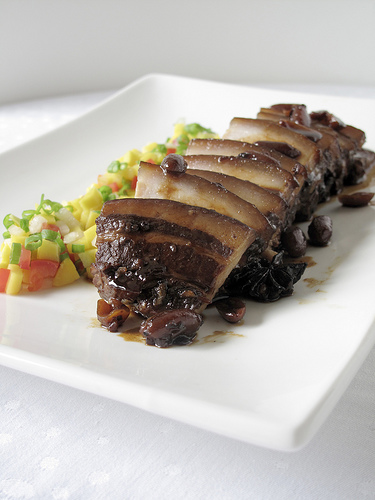 Humba with Ensaladang Mangga
I've never been a guest before.
Heaven knows we have had dozens of people write as our guests on
Table for Three, Please
–which we are very grateful for. But I've always wondered how it would be to write on someone else's site, to be their guest, instead of the other way around.
So when Bee Yin, the creative force behind Rasa Malaysia asked me to one of her guests, I jumped at the chance. While Bee's blog has mostly focused on food of her native Malaysia, she has slowly expanded her recipe list to include culinary delights from other Asian countries. This is where I come in. In my post for Rasa Malaysia, I share my take on that sinfully delicious dish, Humba.
To check out my guest post on Rasa Malaysia, click here.
Much thanks to Bee Yin for inviting me to be her guest.
LABELS: Good Food Travels, Humba, Table Conversation