By franco on 25 April, 2009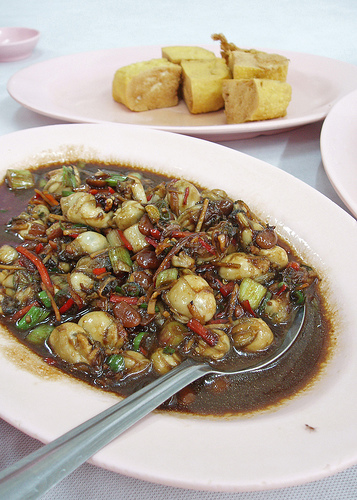 Oysters with Black Beans and Chilies and Deep-Fried Tofu
It's lunchtime.
After a morning of touring Penang in sweltering heat, our trio decides its time to take cover in the shade, drink even more iced milk tea and tuck into probably some the best Teochew cuisine in Penang. Our next food stop is Restoran Goh Huat Seng.
Goh Huat Seng is golden gem in the food landscape of Penang. Having existing in Georgetown for over half a century, this restaurant serves dishes cooked with freshest local ingredients and prepared with cooking traditions from an era past. Some things have changed (air-conditioning in the dining area) but most it has remained the same (a long, florescent-lit dining hall with walls cover in antique Chinese murals and well-worn mirrors). Although they are widely known for their time-honored Chinese steamboat (that is still heated with charcoal), we opt to pass on this local favorite (it's just too damn hot) and try other items on the menu which are equally as popular and absolutely scrumptious.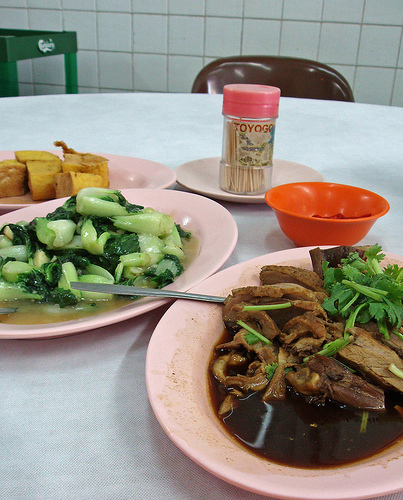 Braised Duck in Five Spice Sauce and Nai-Pak with Garlic
First to arrive at our table is the Braised Duck in Five Spice Sauce. Slowly cooked in a liquid infused with cinnamon, star anise, fennel seed, liquorice root and clove, the duck meat develops deep, dark, almost caramel flavor. Luscious and tender, this was excellent start to a promising meal. To balance off the richness of the duck, we ask for an unadorned vegetable dish. What is served to us is the Stir-Fried Nai-Pak with Garlic. Unlike the braised duck, this veggie dish was subdued. Fresh and light, the nai pak is adeptly sautéed leaving just enough crunch accompanied by a hint of garlic zing, keeping every bite interesting. Although A doesn't share my love for oyster, I persist and request for the highly recommended, the Stir-Fried Oysters with Black Beans and Chilies. To fans of Chinese cuisine, this dish may sound fairly run-of-the-mill. The salty black beans and the hot chilies heighten the experience but what makes this dish special is the freshness of the oysters–soft with just enough bite and yet retaining the wonderful taste of the sea. This is easily the best dish of my tour.
With our stomachs full, our bodies rehydrated and our spirits revitalized, we headed out into the heat of Georgetown–knowing full well that with food this mouth-watering, Goh Huat Seng will be in service for at least another fifty years.
It is unfortunate. But in the late afternoon, the skies darken and it begins to rain–hard. The rest of our food journey will have wait for hopefully a clearer day.
More to come…
LABELS: Georgetown, Penang, The Travelling Table