By franco on 22 April, 2009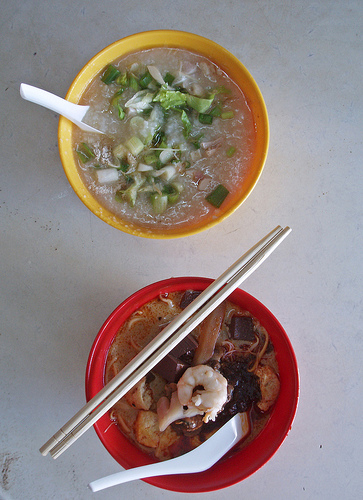 Our First Meal:Curry Mee and Chicken Rice Porridge
I am a foodie with an Internet connection. And I am not afraid to use it.
I've been a food blogging for while now. It's had its highs and its lows. But one the better fringe benefits of all this posting is the opportunity to interact with other like-minded people from all over the world–bonded together by a singular passion for food. Tapping into this network of generous people has been godsend. A recipe, a restaurant recommendation, which markets to go to and which tourist traps to avoid–all this and more. And all you need to do is send an email and ask.
Once the airline tickets were purchased and the hotel reserved, I burned the web and emailed a few virtual friends. Since a majority of our trip would be in the island of Penang, I figured who better to ask than a hometown girl, Bee of Rasa Malaysia.
California-based Low Bee Yin, a food blogger for nearly three years, began posting to create a record of her cooking the food that she grew up with. Now her blog serves as a living billboard of all things deliciously Malaysian. As an extension of her campaign to bring Malaysian food to the world, she and her family run private, customized tours in and around the island they call home-Penang.
Why Penang? Beside its rich, multi-cultural heritage and its historical significance as British colonial settlement, Penang was also voted by
The New York Times
as a food destination to visit in 2009. And who am I to argue with
The New York Times
?
Well rested after a much-delayed, mind-numbingly boring flight to Penang, we met up with our guide, Jenny. Like her sister-in-law Bee Yin, Jenny was born and raised in Penang. I have no doubt that we are in good hands. Our first stop of day is the Pulau Tikus Market.
Pulau Tikus Market is a small open-air market in the heart of Georgetown, the capital of Penang. Like most wet markets in Southeast Asia, this market sells a vast array of dry goods, fresh fruit and produce, meats and seafood. Any home cook would have a field day in this little treasure trove of market finds but right now, A and I are starving and looking forward to our first meal of the day. Luckily, we need not walk far–just around the corner is
Kedai Kopi Kwai Lock
.
Like many coffee shops in Penang, Kadai Kopi Kwai Lock is diminutive, unassuming and very crowded. This is fast food, Malaysian style. It is just past 10 am and there is still a constant bustle of customers, servers and hawkers. The smells of coffee, curry and roasting meats permeate the air –whetting the appetites of would-be diners looking for a quick breakfast fix or a hearty lunch pick-me-up. Fortunately, we snag a table being cleared. While Jenny and I order our meal from the myriad of hawkers, A orders glasses of iced milk tea–our first of many of the day.
Hoping to pace ourselves for the long day ahead, we decide to keep things simple with spicy Curry Mee and a warm bowl of Chicken Rice Porridge. The Curry Mee is an aromatic bowl of egg noodles and rice vermicelli swimming a strong broth of curry and coconut milk. Thrown into this piquant mix are slices of firm tofu, whole shrimps, wedges of cuttlefish, hard-boiled eggs and an interesting addition of cubed, coagulated pig's blood. And to give this noodle a bit more kick distinctive pools of reddish hue, a hot chili sambal is add to the blend.
While the mee screams for attention, A's bowl of Chicken Rice Porridge is all about early morning comfort. Long-grains of rice are gently boiled in a rich chicken broth deepened by the aromas of ginger, rice wine and spring onions. The end result is luxuriant, viscous soup garnished with slices of boiled chicken and slivers of Chinese greens that warms the stomach as well as the soul.
After our breakfast, I turn to A and smile, "Tastes like home." As I sit on my plastic monoblock chair, sipping the final drops of my milk tea, I can't help but think "What a great way to start your day."
LABELS: Georgetown, Penang, The Travelling Table