By franco on 11 April, 2009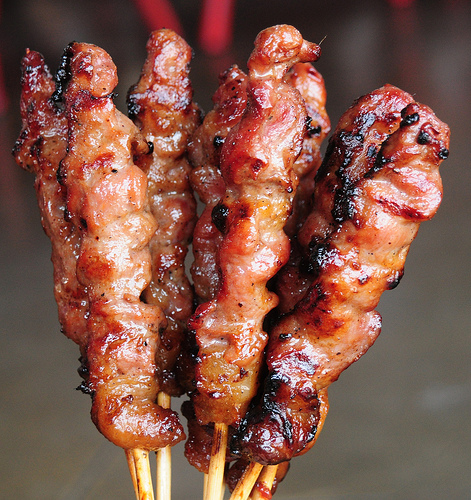 Pork Barbeque from Aling Ineng's
I remember mentioning that I love
food on a stick
.
Coupled with my love of all things pig, Pork Barbeque is easily one of Pinoy delicacies I cannot live without. As a child, I can't recall a birthday party or family celebration without some form of sweet marinated pork on a stick, grilled to caramelized, fall-of-the-stick tender. In fact, barbeque on a stick has left an indelible mark on my mind as a dish that will always be associated with happier, youthful times.
Yes, I've been told that it easy to prepare at home. But sometimes you just want eat and let someone else deal with heat, soot and smell of a hot, smoky grill.
So the question is: when you are yearning for something quick, portable and unequivocally piggy, were to you go to get your pork of stick fix?
Stitch says:

Pinoy barbeque can best be found on the street. But, there are some really good ones like Heaven's Barbeque, which has excellent sauce. I've heard good things about Dannylicious too. I'd rather make mine, though. It is just 7-up and toyo.

Frances says:

I think the BBQ of The Beach House at UP's Sunken Garden is the best in the world. Of course, I don't go there anymore so I have to content myself with Serye.

Margaux says:


Simple lang ako. Aling Nene's off South Superhighway for barbecue. Siksik, juicy and I grew up with this flavor.
Socky says:

There's an Aling Ineng's right across the street where I live. No, I wouldn't drive an extra mile for a better bbq. Commercial bbq's are just about the same, and I'm okay with the size of the pork pieces of an Ineng's bbq, as well as the fat at the bottom of the stick. Reyes Barbeque is also good, but that's a longer walk to Greenbelt 1. But for me, the best bbq's are the ones made at home – no MSG.
Hundred Pound Foodie says:

To be honest, Junjun's Barbecue in San Fernando, Pampanga doesn't taste the same as it used to back when I was a kid. The pork now tastes a bit more like longanisa. The chicken is sometimes tough and half-burnt and the famous barbecue sauce is saltier. The strange thing is we still find ourselves craving for the same and going back to the place at least once or twice a year! Perhaps more out of habit/tradition than anything else (it's been around since 1968). Otherwise, we cook bbq at home using my family's own recipe. Barbeque at Sylvia's Restaurant on busy Sindalan intersection is tender, juicy, tasty and cheap!

Mariko says:

Will you think less of me if I say that I quite enjoy something as commercialized as Reyes Barbecue? It's a little pricier than regular barbecue, but I like how each stick is just heavy with meat, and how the fat is sliced into thin little sheets–just the right amount. Perhaps the preference is a nod to the Sunday lunches of my childhood, spent in Alex III. I believe the owners of the two establishments (plus Aristocrat) are all part of one family.
For family gatherings and parties, though–where bulk orders are necessary–we rely on neighborhood ihawans, which sell pork barbecue for P7 a stick. I love 'em soaked in white vinegar, infused with garlic and pepper. And not-so-guiltily bite off the charred, carcinogenic fat.

Katrina says:


I still remember when I first tried Aling Nene's barbecue. It was served at an officemate's birthday treat, and I was excited the moment I saw the pile of sticks with the big chunks of meat. I'd never seen barbecue like that. Most pork barbecue I'd tasted before then had small, thin slices of meat with a good amount of fat. I don't like pork fat at all (insert collective gasp here), so I end up with too little meat per stick. But Aling Nene's had hunks of thick meat, with little or no fat! And, again unlike other barbecue I'd tried, the pork was tender and moist, and so flavorful that it didn't need any sauce. This is still the standard I judge barbecue by.

There actually is another place I've tried that had great barbecue, this time of the more common type. It was from a carinderia on Reposo St., Makati whose name I never learned; we'd just order their unbelievably priced P5 barbecue whenever we had to bring to a party. At one party I brought it to, the hostess took one bite and immediately instructed her maid not to serve everything to the guests because she wanted to keep some for herself! Unfortunately, I haven't been there in years, so I'm not sure it still exists.
Much thanks to Erik Lacson for the mouth-watering photo.

LABELS: Barbeque, Table Conversation