By franco on 1 April, 2009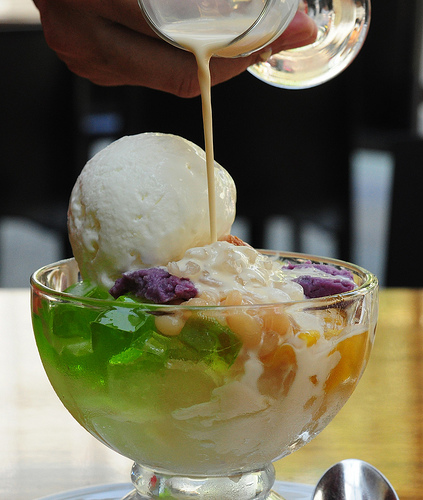 Halo-Halo from Abe
It's summer again.
If the first few weeks are any indication, we are in for a hot one. While most people's thoughts turn toward lazy days at the beach hoping to escape the scorching heat, my thoughts turn toward dessert–the frozen kind. For me, nothing says summer more like a ice-cold, overflowing glass (or bowl) of halo-halo.
While I could try to define the simple poetic elegance of this Pinoy dessert, I think Luning Bonifacio Ira captured it best:
"Served in a the traditional tall fluted glass, it is an edifice, no less, baroque splendor. On a sapping day the soaring sight lifts the spirit and has the power to banish the heat…A separate class altogether is halo-halo especial. It is the humble regular, but knighted by the nobility of Philippine sweets–leche flan and makapuno— surmounted by a scoop of ice cream, topped by a towering mound of shaved ice, sprinkled over with toasted pinipig and sugar." – from 'Halo-Halo' in The Culinary Culture of the Philippines
So the question for this Table Conversation is: when the summer heat is making you melt, where do you go to get some halo-halo relief?
Hundred Pound Foodie says:
I prefer Razon's halo-halo in Pampanga where the shaved ice seem finer, and only when the bananas are perfectly cooked–not tough and arnibal-sweet. Corazon's is rich; tastes like cold yema and velvety pastillas. I heard its original garage location is still in Angeles–better than the newer branch near Nepo Mall where you could smell the loo as soon as you open the resto door (sorry had to mention this!).
Socky says:
Halo-halo? I like it with a lot of red beans, pinipig and halayang ube. Not quite fond of banana and kaong in my halo-halo. So I prefer halo-halo at roadside stalls where the tindera is more willing to customize my order. Whenever I see one such stall and the summer heat is getting to me, I stop by for a halo-halo fix. Also, this kind of halo-halo reminds me of summer days spent in the province–complete with kinaskas na yelo and evap!
Margaux says:
Must admit, I'm not very good with halo-halo. Those Chow King ads make you really crave for one though! But a good one would be one that would have everything in it: those red beans, langka, kaong, ube, pinipig, gulaman, leche flan. I'm sure Pampanga has a secret place with amazing halo-halo (masarap kasi yung ice ng Razon's pero parang kulang sa burloloy) that we have yet to discover–maybe Poch can enlighten us–but I guess in Manila, the go-to would still be The Pen.
Frances says:
The best halo-halo ever is Razon's. I know it doesn't have all the essential ingredients (it's a white halo-halo so I kinda miss the ube) but it is still the most malinamnam halo-halo.
Stitch says:
Halo halo? I like Razon's, because it isn't so overhwhelming, flavor-wise. Another good one is Chowking, which makes a nice, traditional version of it. Other noteworthy ones are Gene Gonzales' take on it in his restaurant Lasap, and the classic Peninsula version, which impresses just on size.
Becky says:
As for halo-halo, my answer is really boring: Razon's. Why? Because it's not beany. It's simple and straightforward, and it's on the sweet side with the bananas and macapuno and slices of leche flan on top. Sweet, milky, yummy!

I also love the Anmitsu of Kozui—you could call it a Japanese halo-halo. At the center is green tea soft serve ice cream with various gummy, pasty Japanese tidbits and fresh fruits of your choice.
Mariko says:
This might sound unpatriotic of me, but I am not into traditional halo-halo. I can't appreciate the overload of textures and flavors, which is probably why I really like the simplicity of Razon's. Just bananas and macapuno and leche flan and ice. I also enjoyed a different take on halo-halo at Casa Rap in San Jose, Batangas. Instead of ice shavings, they made use of shaved frozen buko juice. Refreshing!
Katrina says:

As for halo-halo, the best kind is one I can make myself. I want to be able to only put in the ingredients I like (no kaong and langka!), and to put lots of the ingredients most halo-halo vendors put too little of (i.e., leche flan and ube). Barring that, I've jumped on the bandwagon of Razon's. Just a few ingredients, and something secret that makes it taste unexplainably more malinamnam. Some have posited the use of carabao milk, but a friend who once entered their kitchen saw regular canned milk; some have said they use panocha instead of white sugar, and I do seem to detect that dark sweetness, but then it could be the power of suggestion. Whatever, I'm a convert.

I also enjoyed the Arayat version of halo-halo that I tried at Marc Medina's stall in Salcedo Market. It has pastillas de leche! Creamy, stick-to-your-teeth pastillas with milk and ice…how could it not be good? Though I do wish I could add some leche flan or ube to it…but I'm a shameless hedonist when it comes to sweets.
Much thanks to Erik Lacson for the amazing photo.
LABELS: Halo-Halo, Table Conversation