By franco on 15 March, 2009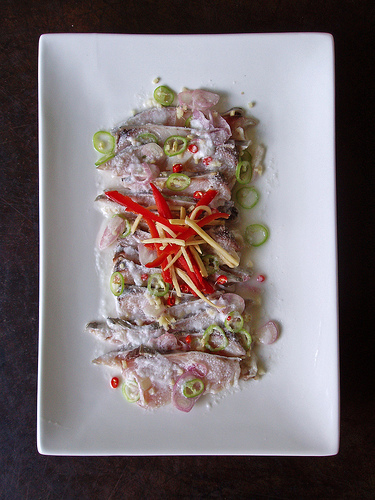 In the lexicon of Pinoy food, there is nothing like
kinilaw
.
Admittedly, other cuisines have their own versions of curing fish with vinegar, liquors, herbs, salts and spices. But the kinilaw is proudly our own. Even as a child, I remember loving this dish. I loved the tangy flavor of the vinegar-infused coconut milk, the firm sweet bite of the fresh fish quickly followed by hot zing of the red and green chilis. I would pile a healthy serving of kinilaw on my plate and spooning the coconut milk/vinegar dressing on my steaming hot rice. My mother would warn me not to eat too much at one go but I usually wouldn't listen. Sorry, mom.
Luckily, I haven't suffered anything more serious than a grumbling tummy from my 'raw' fish love. But I digress…
This recipe is not a reinvention. Instead I'm experiment with the plating for this dish. Instead of cutting the fish in cubes, I quartered the fillets of tanguigue and sliced them as thinly as possible. I dressed the plated pieces of cured fish with the coconut milk mixture and garnished the dish with matchsticks of red bell pepper and ginger. With this dish, I am creating a kinilaw that is more reminiscent of a beef carpaccio than the usual mass of vinegar-soaked white fish.
My cookbook du jour, Kulinarya, emphasizes three points: First, always use the freshest of fish. Next, make sure to use white vinegar that is of the best quality. And lastly, when combining ingredients always use bowls made with non-reactive materials.
Following these guidelines, you are assured of a dish that celebrates the best that sea can provide and avoid those irksome rumblings in the tummy.
Good eats.
Kinilaw na Tanguigue
Adapted from Kulinarya: A Guide to Philippine Cuisine


250 grams tanguigue, quartered, then thinly sliced
1 cup white vinegar
1/2 cup coconut milk
6 pieces shallots, sliced in thin rounds
1 thumb-sized ginger, cut into matchsticks
1 pieces bird's eye chilies, deseeded and thinly sliced
2 pieces green finger chilies, deseeded and thinly sliced
1 small red bell pepper, cut into matchsticks
2 tablespoons salt
1/2 black pepper, finely ground

Marinade the slices of tanguigue with 1/2 cup of vinegar. Once the fish has turned opaque, discard the marinading vinegar and set aside the cured slices of fish.

In a glass or ceramic bowl, mix together the remaining vinegar and the coconut milk. Add the cured fish slices, shallots, bird's eye and green chilies, salt, pepper, half of the ginger and half of the red bell pepper. Chill in the refrigerator.

To serve, transfer the slices of tanguigue to a plate. Pour the vinegar/coconut milk on top of the fish and garnish with the remaining matchsticks of ginger and red bell peppers.

serves 4
LABELS: Kinilaw, Table Recipes