By Mariko on 31 March, 2009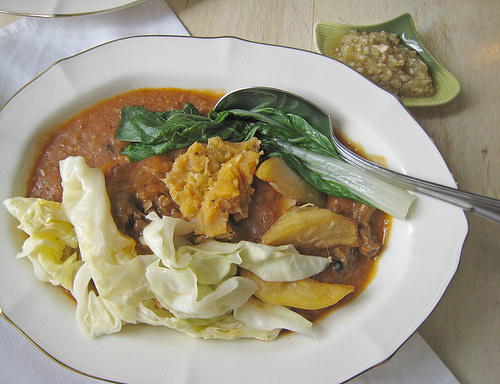 Potchero ni Tankeko: A Bestseller
It had been a while since Mother and I had a date, so I invited her to (KKB) lunch at
1521
. I figured that if any dining companion would appreciate Pinoy food, it would be her.
When I got there, she had already started on her Kamias Cooler (P65). She would have wanted it a bit sweeter, but decided not to ask for syrup so that she could at least say that she had something healthy. Her comment? "It's something different. Akala ko pang-sinigang lang 'to. Pwede palang gawing juice!" Iced tea girl that I am, I ordered their House Blend Iced Tea (P65), which, I was told, had lemon and mango. It tasted very familiar–a lot like Almigh-tea, having hints of vanilla in there.
Much has been said about the witty names of the dishes served up at this fun Filipino resto, so I didn't expect to be as amused as, say, a more clueless diner. But I was surprised when quite a few names still made me (and Mother) chuckle. A couple of my favorites: Dual Citizen na Chicken and Oy! Oy! Oy! Batchoy! I imagined the restaurant owner one night prior to opening the resto, sitting around with friends (possibly with beers in hand), trying to outdo each other with funny food names. Whoever came up with "Pinakbet-ter than Best" deserves a prize, in my book!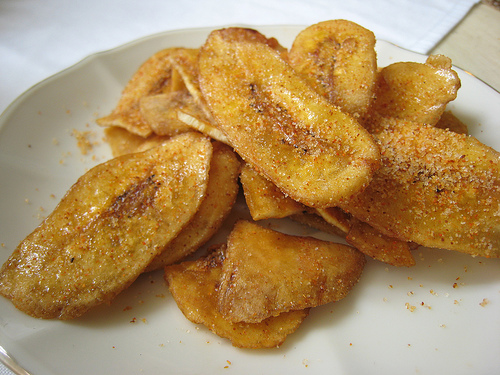 Bad Banana Chips. Caution: Hot!
As we read through the menu, we munched on some
Bad Banana Chips
–and I don't mean that they sucked. They were just so named because these weren't your regular sweet banana chips; instead, the spicy slivers were coated with salt and chili. A lot like the usual
mani
served as
pulutan
. And because I am a lover of all things spicy, I really really liked this appetizer–especially since a small plate was given, on the house!
A lot of people have raved about the
Potchero ni Tankeko
(P265)
, and Mother was raring to try it, so try it we did. It's not your typical potchero in that the sauce is thicker than average–described by the menu as a "mush of yams, plantains, tomato sauce, and vegetables." "Mush" is indeed the best way to describe it. While some people may be put off by the consistency, the mushiness might be the reason the flavors seem so infused.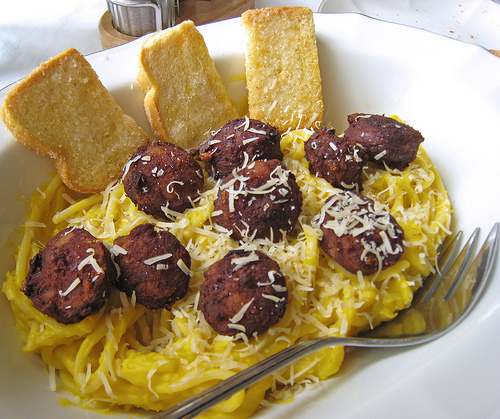 Pasta made Pinoy
People generally have high praises for 1521's Pinoy classics, so I wanted to see if their other offerings were just as satisfying. I thus ordered the
Longga-Kalabasa Carbonara
(P220)
. This Pinoy take on pasta had sliced Tagalog longganisa over spaghetti coated with what was supposed to be a creamy squash sauce. While the longganisa was wonderfully garlicky, the pasta itself was actually rather dry. I was hoping for something a bit creamier. I would also have preferred smaller longga slices–I found myself chopping each piece up into three or four smaller pieces.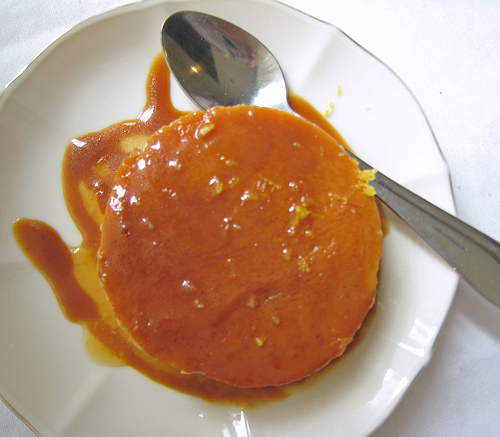 The Leche Flan: A Sweet Ending
To end our meal, Mother opted for a simple
Leche Flan (P80 for a solo serving)
. As it was set before me, I could already smell the lemon-y zing. Mother took one bite and remarked, "
Ganito 'yung leche flan namin sa probinsya, may dayap.
" The citrus flavor added a different dimension to this old standby, tempering the incredible sweetness of the custard.
The service was great (Mother described the resto as "customer-friendly"), the food was unique, yet familiar and comforting. But the best thing about the resto is probably the creative names. What's in a name, you ask? Well, a humorous one can bring out a smile or even a guffaw. And any time you start a meal with a good laugh, then it's bound to be a good experience.
1521 Restaurant
547 Shaw Boulevard
Brgy. Wack-Wack
Mandaluyong City, Metro Manila
Telephone: (02) 794 0433
*Ed's note:
1521 has since relocated to:
1521 Restaurant
Forbes Town Center
Forbes Town Rd
Fort Bonifacio, Taguig
(02) 552-1909
LABELS: 1521, Manila, Mariko, Restaurants