By franco on 9 March, 2009
I love Filipino food.
I've been fortunate to savor the flavors of other nations but I always return to the food of my mother's kitchen. There is really nothing like tasting the tangy sourness of a kinilaw, the fatty saltiness of a pork adobo or the deep earthy essence of slow stewed kare-kare. These are the flavors of home.
While eating Pinoy food at home is always a pleasure, eating Filipino food in a restaurant is another matter entirely. Admittedly, there are dishes that only a well-equipped professional kitchen can achieve vis-a-vis the normal home kitchen like the crisp crackle of lechon skin or pork sisig sizzling on a hot plate. But given the choice, many Pinoys would rather eat at home than pay for the expense of a restaurant meal.
Why eat out when you can easily make the same thing at home?
There are two reasons. First, the desire of that deep-fried crispy pata is just too great and you don't want to spend hours in kitchen frying. Or second, the restaurant you are going to has found a way to elevate Pinoy food to interesting new heights.
Take for example, 1521 Restaurant.
This small, non-descript restaurant along Shaw Boulevard is the brainchild of three friends: Tanke Tangkeko, Chef RJ Ungco and Nica Miranda. This trio of food lovers have fashioned together updated Pinoy basics, family favorites and some interesting fusion combinations to create a menu that is, at first glance, humorously intriguing (to say the least).
Before I move on, let me get a couple of bothersome issues out of the way. First, the restaurant's interiors are a bore, drenched in beige and white with tables and chairs that were as uninteresting as the color scheme. Yes, I did take note of the unusual ceiling (which has been described by a website as " [a] ceiling made of food crates with a patterned design in wood finish, reminiscent of modern Filipino colonial architecture". But honestly, how many diners really look at restaurant ceilings? Some people would call their design minimalist. I call it charmless.
Next, the service. The servers are courteous but sadly, not very engaging. And when your food takes much too long to be served, I guess diners would have time to admire the ceiling – not necessarily a good thing.
That being said, let talk about the food, starting with the menu.
1521's menu is like an open invitation. It is witty, funny and intriguing, so much so that a diner can't help but want to try every dish. If there is such a thing as a perfect advertisement, this menu is it.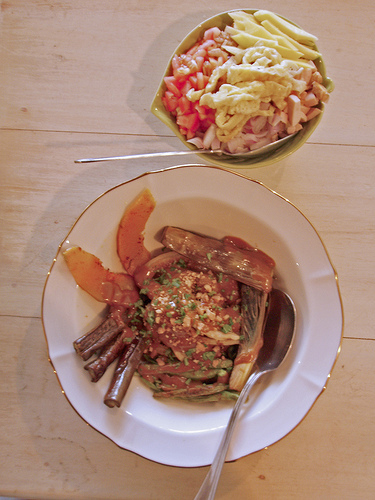 Grilled Kare-Kare Thai-Kenko
We start our meal with a family favorite, the Ensaladang Manga or, as they call it, the Chica-Manga (P178). It's a simple salad composed of crushed pork cracklings, small cubes of tomatoes, eggplant and white onions and slices of green mango all dressed with the fishy-saltiness of shrimp paste or bagoong. Plated untossed, guests are left to mix their own salad to their tastes. But once combined, this salad is a haramony of contradictions: the salty bagoong balanced with the sour unripe mangoes, the slightly bitter eggplant, the fatty crunch of cracklings and the sweet-soft tomatoes. A promising beginning after the long wait.
A. loves all kinds of chicaron but she most especially can't resist the siren call of the deep-fried goodness of the Swak na Swak Chicaron Bulaklak (P210). Pork intestines are fried till a crispy golden brown and served with a tart kamias relish and lip-puckering sinamak. Crunchy on the outside but soft and spongey on the inside, the little guilty pleasures are not much to look at but they are absolute a delight to savor.
Last but most definitely not the least, we are served the Grilled Kare-Kare Thai-Kenko (P330). I love this traditional Filipino pork and tripe peanut stew but 1521's deconstructed version may have upped the standard for me. The usual vegetable ingredients such as eggplant, string beans, squash and pechay and banana bud are grilled and served separately as sidings. The center of this dish is a fall-off-the bone stew of beef and tripe cooked in a sweet-savory peanut sate sauce. Instead of the usual shrimp paste or bagoong condiment, 1521 serves this dish with a generous serving of Khao Khluk Kapi or Thai-styled fried rice with shrimp paste. This unique kare-kare was a meal on to itself and is definitely a dish we will be savoring again soon.
Purirsts may disagree. But I believe that food like the dishes served at 1521 represent the future of our cuisine—putting a brave, new and inventive face on the food we all grew up eating. Admittedly, they may never replace your mother's
paksiw na isda
or
rellenong manok
but the food of 1521 has made dining out, Pinoy style, fun again.
1521 Restaurant
547 Shaw Boulevard
Brgy. Wack-Wack
Mandaluyong City, Metro Manila
Telephone: (02) 794 0433
*Ed's note:
1521 has since relocated to:
1521 Restaurant
Forbes Town Center
Forbes Town Rd
Fort Bonifacio, Taguig
(02) 552-1909
LABELS: 1521, Franco, Manila, Restaurants