By franco on 25 February, 2009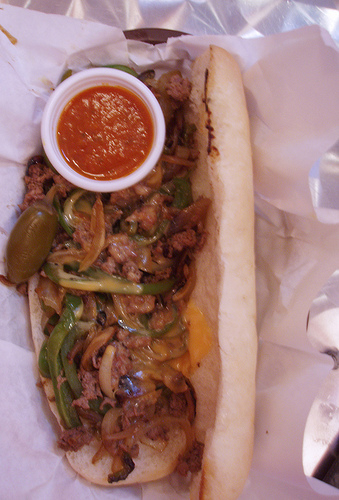 A Mess of Flavor

It's an hour after lunch and I'm sitting in the midst of chaos.
Charlie's Grind and Grill is the newest burger joint in Metro Manila. And like some of the newer establishments, this restaurant suffers from a fortunate conundrum: popularity. Because of certain food writers (no names but you know who you are), there has been a tsunami of guests flocking to this little eatery. Obviously caught flatfooted by this sudden influx, the front-of-the-house staff (who, by my count, were a grand total of two) are simply overwhelmed. Getting an open table is slow. Ordering your meal is even slower.
If you choose to visit Charlie's, especially on a weekend, be prepared to wait. With that said, let me just say that your patience will be well rewarded.
Their menu is limited, serving what many would consider bar chow. While Charlie's highlights their Black Angus Burger (P175, with fries), I'm here to indulge in another item, the Philly Cheesesteak.
For the uninitiated, a Philly Cheesesteak is a simple sandwich of thinly sliced beef topped with melted cheese and served in a long warm loaf of Italian bread. Depending upon the purveyor, the ingredients may vary, from the cuts of beef, to the choice of cheese (or cheese substitute) or even whether green peppers, caramelized onions or sautéed mushrooms are added.
Charlie's Cheesesteak (P220, for the smaller size) is made up of fine cut Batangas triple 'A' sirloin, a mix of green peppers and onions and a topping of cheese sauce. While I usually like my Cheesesteaks on the simpler side (beef, Cheez Whiz and a bun), I decide to keep to the menu and not ask for any alterations to my sandwich. The works, please.
My sandwich arrives in a simple paper-lined basket. What first hits me is the smell. As the steam rises from my freshly made cheesesteak, the aromas of caramelized onion, sautéed green peppers and seared beef fills the air. I'm beginning to drool, anticipating my first taste. A bite is messy, yet scrumptious. The tastes and textures are distinct. But everything from the delicate crunch of capsicums to the brown-sugar sweetness of the onion to the creamy cheesiness of the cheese sauce comes together to underline what is most important–the juicy, fatty flavor of the beef. With every bite, more cheesy beef falls out my warm hardy roll. Luckily I have just enough bread to mop every stray morsel from my basket. This is my idea of finger-licking good.
Charlie's Philly Cheese is a gloriously delicious mess–a mess that I am more than happy to clean up.
PS. There is a car wash beside Charlie's. Clean your car while chowing down on a burger followed by an ice-cold beer chaser. That's my kind of multitasking.
Charlie's Grind and Grill
16 East Capitol Drive
Brgy Kapitolyo
Pasig City, Metro Manila
LABELS: Charlie's, Manila, Philly Cheesesteak, Restaurants