By franco on 5 February, 2009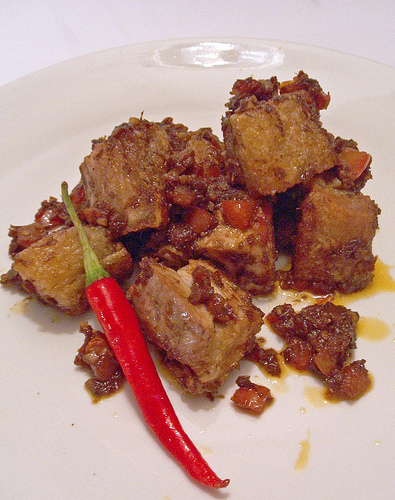 There are two schools of thought when it comes to Pork Binagoongan.
There are those who like their binagoongan succulently soft while there are others who love theirs with little of a crispy bite. I was raised in a household that thought the former was the way to go. In my mother's house, pork belly was cut into cubes, boiled with dried herbs and spices and then mixed with a lot of shrimp paste. This binagoongan stew was left to simmer until almost dry, plated and immediately served.
But ever since I tried Café Juanita's version, I've decided to jump ship and try the other camp's version.
This recipe requires cubes of lechon kawali prepared beforehand. I imagine that most households already have their own method of creating this much-loved deep-fried pork dish. But just in case you need a recipe or would like to experiment with your current one, click here and here.
Since bagoong is such an essential ingredient of this recipe, some purists would prefer that they sauté their own shrimp paste. Me? I'm a bit of a lazy cook in that respect. And besides Barrio Fiesta creates such an amazing bottled bagoong, why bother? When it comes to bottled shrimp paste, we consumers do have options: from the sweet to the spicy. I personally like my shrimp paste more on the spicy side. So it is no surprise this recipe has a bit hot kick to it.
Spicy Pork Binagoongan
Adapted from Kulinarya: A Guidebook to Philippine Cuisine

500 grams lechon kawali, cut into 1- 1 1/2 inch cubes
3 cloves garlic, minced
1 medium-sized onion, finely diced
4 medium-sized tomatoes, finely diced
1 tablespoon vegetable oil
1/4 cup bottled spicy shrimp paste
2 to 3 long red chilis

In a heated pan over medium heat, saute the garlic, onions and tomatoes in the vegetable oil. Cook until the tomatoes are tender and mixture is frangant

Add the shrimp paste and cook for another five minutes

Add the cubed lechon kawali and the red chillis. Carefully toss together, making sure to properly coat each piece of pork.

Serve immediately.

serves 4
Tenderly soft and crunchy crisp. Spicy or sweet . It really doesn't matter. With the combination of pork and bagoong, the recipe is a definite crowd pleaser that never misses.
Good eats.
Much thanks to Market Man for his very informative Lechon Kawali odyssey.
LABELS: Pork Binagoongan, Table Recipes