By franco on 17 February, 2009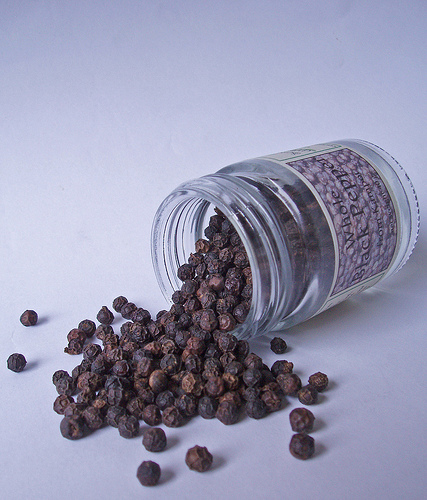 Big flavor comes in small packages.
During a much-delayed, housewarming dinner, my friend T unexpectedly hands me a small package. T and her husband E had just recently returned from their honeymoon at the current destination du jour, Cambodia. The little wrapped gift I held in my hands is my post-Christmas/pasalubong present rolled into one.
Curious, I eagerly unwrap my gift. Inside is a small clear bottle proudly labelled Whole Black Peppercorns from Kampot. I unscrew the lid and almost immediately a deep, rich, earthy scent wafts from these diminutive black globes of peppercorn. Heavenly.
From professional chefs to home cooks, all would agree: besides salt, peppercorns are an essential, must-have pantry item in any kitchen. I believe that there are very few savory recipes from Asia, Africa, Europe or the Americas that do not use pepper in one form or another. Needless to say, this gift of peppercorns is much appreciated but I have to admit, at that point, I knew little about I actually had in my possession.
Time to Google: Black, Peppercorns, Kampot, Cambodia…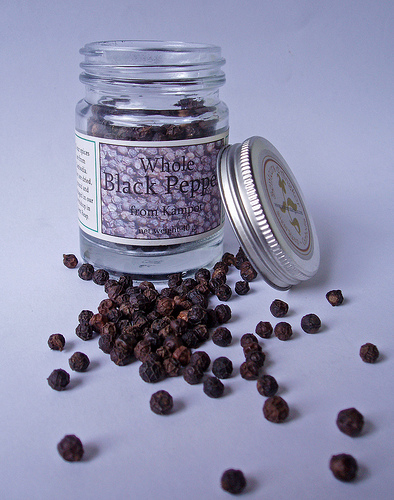 Apparently, what I have is a bottle of peppercorns with a pedigree. From the
Cambodia Cooking Class website
:
"Kampot is a riverside village in Cambodia, near the former French colonial beach retreat of Kep. It is renowned for producing one of the world's finest peppers. In the years before war took its toll, no self-respecting French restaurant in Paris would do without Kampot pepper on the table. Despite pepper cultivation being adversely affected by events in Cambodia's recent history, small farmers in the region are using their traditional skills and knowledge to once again make Kampot pepper a valuable product."
These peppercorns are so closely associated with this particular region that there are plans to make Kampot peppercorns the first Cambodian product to have an origin-specific label. Assuming things go as planned, Peppercorns from Kampot will be internationally acknowledged like Champagne in France or Parmigiano-Reggiano Cheese in Italy—only peppercorns from Kampot can marketed and sold as such.
Now with my little bottle of precious spice sitting on my kitchen counter, the only question is what recipe is worthy of such a special ingredient. A Beef Steak au Poivre, perhaps? How about a Roasted Pork Belly with a Spicy Peppercorn Sauce? Or maybe a dish more Khmer in origin? The possibilities are endless.
Whatever I ending up doing I'm sure it will be peppery hot. Stay tuned…
Thank you so much to T and E for inspiring this post.
LABELS: Kampot, Peppercorns, Table Conversation