By franco on 6 January, 2009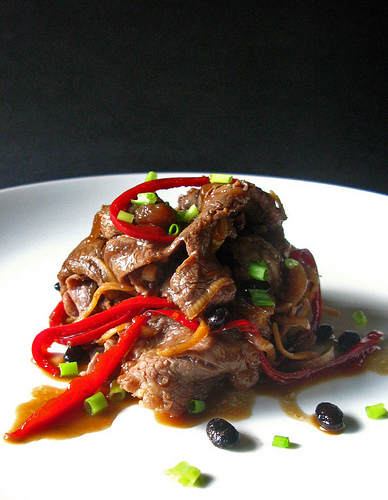 A Beefy Stir-Fry Heated Up

I've been woking up storm lately.
After excitedly seasoning my new wok (thank you V and C), I've been immersing myself even more into Chinese cuisine. Improving both my cutting skills and my cooking techniques. Being a bit of an obsessive-compulsive, I'm trying to get in some practice before a little trip I'm taking later in the month. More on that later.
I love this classic Cantonese dish. Once all the preparations (slicing, dicing and marinating) are done, cooking and plating are a quick and easy. As Chef Kwong says the Black Bean and Chili sauce can be easily used with other proteins such as pork, chicken, seafood and tofu. So feel free to mix and match.
Enjoy.
Stir-Fried Beef with Black Beans and Chili Sauce
Adapted from Kylie Kwong's Simple Chinese Cooking

500 grams beef fillet, cut into 1 cm slices
1/3 cup vegetable oil
¼ cup spring onions, finely sliced

For the Marinade

2 tablespoons cooking rice wine or shao hsing wine
1 teaspoon sea salt
1 teaspoon white sugar

For the Black Bean and Chili Sauce

½ medium-sized red pepper, seed and membrane removed and finely sliced
1 small red onion, finely sliced
¼ cup ginger, julienne
3 garlic cloves, roughly chopped
1 tablespoon salted black beans
2 tablespoons cooking rice wine or shao hsing wine
1 tablespoon white sugar
1 tablespoon light soy sauce
2 tablespoon oyster sauce
1 tablespoon malt vinegar
½ teaspoon sesame oil
2 small red chilies, deseeded and sliced on the diagonal

In a Ziploc bag, mix together the slices of beef with all the marinade ingredients. Seal the bag and leave to marinate in the refrigerator for 30 minutes.

In a hot wok, heat half the oil until the oil shimmers. Add half the marinated beef and stir-fry for 30 seconds. Removed the seared beef and set aside. Add the remaining beef and stir-fry for 30 seconds and again, remove and set aside.

To make the sauce, add the remaining oil to the hot wok. Add onions, ginger, garlic and black beans and stir-fry over high heat for 30 seconds. Stirring constantly.

Return the beef along with the cooking wine and stir-fry for another 30 seconds. Add the sugar, soy sauce oyster sauce, vinegar and sesame oil and stir-fry for another minute. Lastly, add the chili and reserved pepper and stir-fry for another 30 seconds.

To serve, plate the beef on the platter and garnish with spring onions.

Serves 4
LABELS: Stir-Fried Beef with Black Beans and Chili Sauce, Table Recipes