By Mariko on 24 January, 2009
I have a confession to make. Although I'm a fairly adventurous eater, I am not a big eater of Pinoy fruit. I love strawberries, bananas, mangoes, oranges, but I'm not particularly fond of the
sineguelases
and
bayabases
of the fruit world. So this was probably the only way I was willingly going to eat
santol
…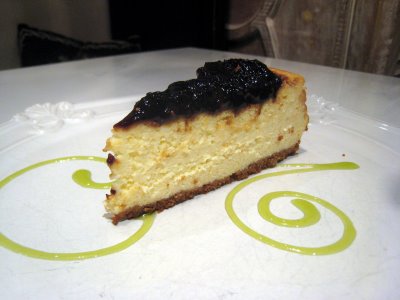 De Espadana Quezo de Bola Cheescake (P220)
Yup, santol in a cheesecake. It's mixed with prunes and dried figs on top of—get this—a quezo de bola cheesecake!
Now, I love me my quezo de bola, so this was one time I was willing to get over the whole aversion to local fruits, and I am so glad I took the plunge. The cheese layer is sharper than typical cream-cheese cheesecakes, and was delightfully chunky. I normally like velvety smooth cheesecakes, but for this, I had to make an exception—those chewy bits added a different dimension to the cake. The fruit? Still not sold on the santol. It was fine, but I actually said, "Parang mas masarap 'yung cheesecake kung may ham sa ibabaw!" Hmm…a new, weird take on noche buena mainstays.
You could get this baby at Restaurante Pia y Damaso, which has a drool-worthy selection of desserts that I was raring to try. Alas, during my visit, my tummy (and my wallet) only allowed me to savor two of their delectable-looking offerings, the second of which was…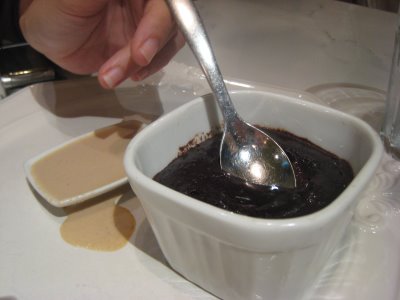 The innocent-looking Diablo (P150)—nasa loob ang kulo or, in this case, anghang!
Called the Diablo, it's described as "hot bittersweet chocolate pudding souffle with our special spices and red chili pepper (siling labuyo) with cinnamon cream anglaise and caramelized fig compote." The first time I ever tried chocolate with chili in it was when my Indian friend's father had me taste a chili-infused chocolate bar. While my friend wrinkled her nose as I bit into the bar, I was surprised at how much I enjoyed it! I love chocolate, I love chili—so it was only natural that I would love them together!
The Diablo was much spicier than I thought it would be—so much so that my eating buddy had to ask the waiter to leave a pitcher of water on our table. She would water down the chocolate after every bite! It's one of the most interesting things I've had in a really long time: It looks innocent enough sitting in that little white cup. Once you dip your spoon in, you'll find a fudgy center surrounded by a somewhat spongy, super moist cake, a lot like a freshly baked chocolate lava cake in a cup. Once the chocolate greets your tongue, you at first appreciate the richness of the chocolate before being jolted by the incredibly spicy kick. This is definitely not for the faint of tongue. That creamy sauce adds a subtle, cinammon-y taste, but it does little to dampen the peppery burn. The Diablo gives new meaning to the term "hot chocolate"!
While I really liked it (and would gladly have it again), the Diablo strikes me as something that not everyone would appreciate. But the resto's got a wide selection of desserts to choose from, so you're bound to find something that could satisfy your sweet tooth—and leave your spicy tooth out of the picture.
Restaurante Pia Y Damaso
Unit 2-053
Greenbelt 5
Ayala Center, Makati
Telephone: (02) 729-5511
Email: kafeedamaso@yahoo.com
LABELS: Manila, Mariko, Restaurante Pia Y Damaso, Restaurants