By franco on 12 January, 2009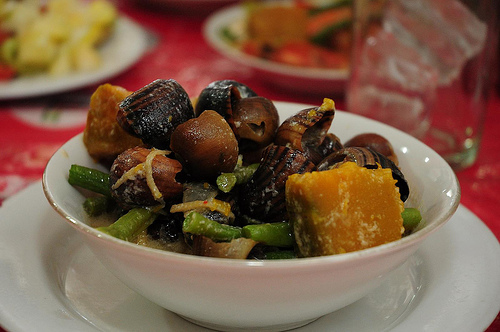 Guinataang Kuhol from Caruz Eatery

Nothing says comfort like the flavors and aromas of a home-cooked Pinoy meal.
Admittedly, we love the fanciful culinary art of other world cuisines. But still there is nothing in the world like our Pinoy food. It is true that one can savor the tastes of the Philippines in more chi-chi establishments like Bistro Filipino, Abe or Sentro. But to really understand Pinoy cuisine you have eat in a Filipino home. If that is not an option, trying hitting the streets and asking the locals where they go for lunch.
My first visit to Caruz Eatery was almost a decade ago. At that time, I was doing store checks with a company salesman when lunch rolled around. For lunch, he brought me to this small carinderia. Caruz was the literal embodiment of a hole-in-the-wall. While the place itself was simple and unadorned, the food left an indelible impression on me. It was the best Filipino food I had outside my mother's kitchen. I promised to return.
Fast forward to last month. Erik Lacson and I decided that we want to highlight the best of Pinoy food. While discussing which of myriad of Filipino restaurants we could photograph, I recalled a small carinderia in Pasig I had visited years ago. I couldn't remember its name but I recalled loving the food. After little searching, we rediscovered Caruz Eatery. Although the once-humble turo-turo has become larger and a section is now airconditioned, the food is still as I remembered it–simple, delicious and comforting for both the stomach and the soul.
To take a peek at the delectable food of Caruz Eatery, please click here. While viewing the slide show, please click on the photograph itself for more information.

Many thanks to Nellie and Choy Caruz. Your food and hospitality are much appreciated.

Caruz Eatery
220 Hillcrest Drive
Brgy. Oranbo
Pasig City
Telephone: (02) 671 5277
Mobile: (0918) 523 3368
LABELS: Behind the Kitchen Doors, Caruz Eatery, Fast Food, Pasig, Pinoy Style